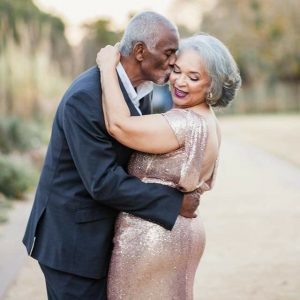 Talented photographer Amber Robinson of Images by Amber shared these images of her parents last week on social media and they are going viral — as they should. Even more beautiful than the pics are her accompanying caption. Amber also shared some fun facts  exclusively with Triple B about her parents like the fact that her mother's sequins gown was scored at…Wait for it: Amazon! This entire feature is an example of the power of love and family. Enjoy!
"I never dreamed of my wedding…only dreamed of a beautiful marriage. In this wonderful creative industry, I focus so much on providing couples with a day of beautiful photography. To be honest, rarely do I stop to think about the day, weeks, months or years that follow a wedding day. So today I share with you what those years can look like when true love exists. These are my parents: married for 47 years. They have triumphed over cancer…twice. They have raised two successful daughters. They have been poor together and rich together. They have fed, sheltered and advised countless lost souls. They love without expectation and give freely, whatever it is they have to offer. I am so proud to call them Mom and Dad. They are a constant reminder that a wedding is only a day, but a marriage is forever."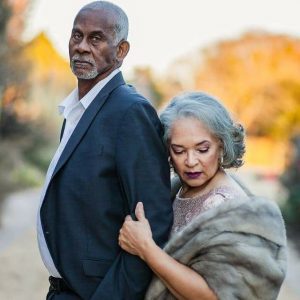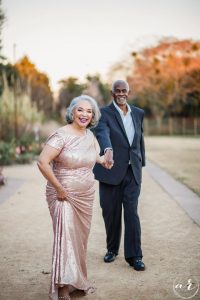 More fun facts about this lovely couple:
Grandchildren: Yes; three granddaughters!
Couple's City of Residence: Raleigh, North Carolina
Photo Shoot Location: JC Raulston Arboretum in Raleigh, NC
Backstory of photo session according to Amber: "I try to do a holiday portrait for Mom and Dad every year and this year we decided to crank it up a few notches and do something very formal and glam. Mom and I set about looking for a gown and I knew Dad would put on a suit." The rest is Black Bridal Bliss Marriage Matters history…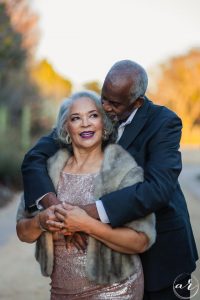 Photography: Amber Robinson of Images by Amber
Hair: Tish Cotton @titiasharice of Garnish Salon
Makeup: Melissa Small at @frontrowcosmetics
Wanda's gown: Amazon.com
Marvin's suit: His own
Share your feedback on this gorgeous couple below and check out more inspiring Marriage Matters couples here.