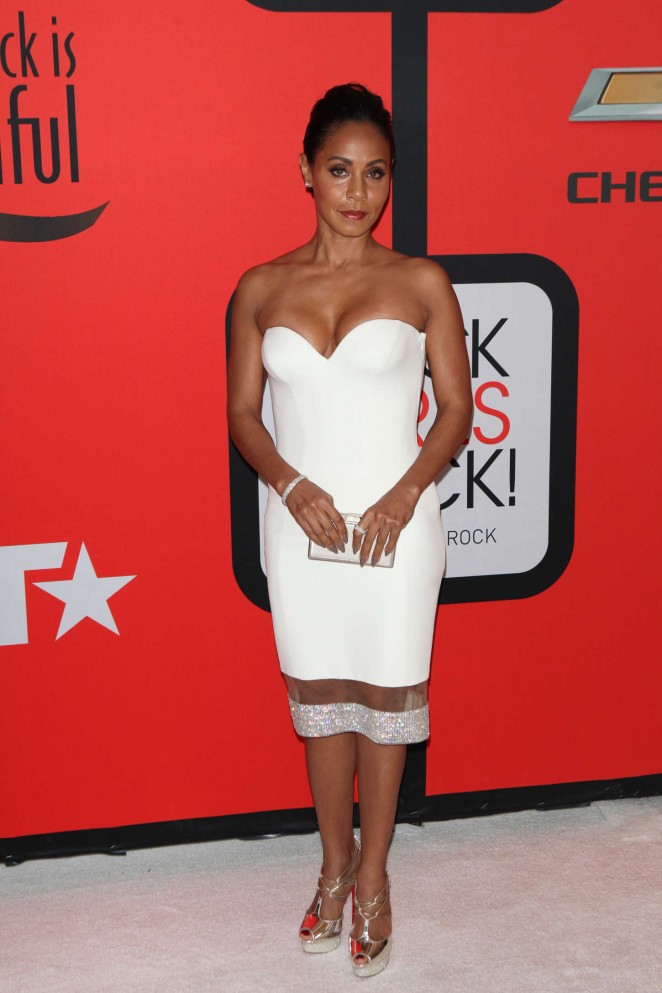 Mars thinks – Like the McDonald's slogan – I'm Loving It!  I would call this subtle sexy. Jada's shape is nicely complimented with the fit. The dress is cut low enough to have me watching for a wardrobe malfunction, but still falls under the "classy" umbrella. The peek-a-boo knee action keeps the dress out of the plain ole' white dress category and the length allows this dress to be worn in any venue at any time of the day. In my opinion, this dress would be a great choice for a bridal shower and/or wedding rehearsal gathering.
Venus thinks – Not only do Black Girls Rock but we clearly don't age either! Honestly my initial thought was whether this look was "age appropriate" for Mrs. Pinkett Smith, but with a build like Jada you can make anything look good. Not a big fan of the mesh cutout. I would've preferred a split in its place.I love Jada's metallic accessories to correspond with the silver shimmer at he hem of her dress. I truly believe that less is more, but I would've liked to see a choker or statement necklace added to this look. I would definitely recommend this 'fit or similar look for a bridal shower/brunch!
                            Check out what Mars and Venus had to say last week here.