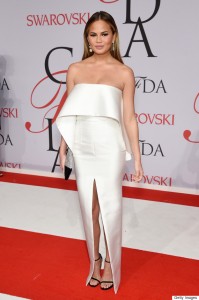 Mars thinks – Venus and I don't share the same opinion on today's dress. This definitely isn't my favorite featured dress. The front split looks great, but that top action is really throwing for a loop. I think there was extra material after the dress was completed and someone decided to get creative. I would have stayed with the fitted dress with the frontal split and avoided adding the extra "swoop" at the top.
Venus thinks – This year's CFDA Awards gave us bridal looks galore! I must say that model and wife of R&B crooner John Legend, Chrissy Teigen, stole the show. What I love most about this gown is definitely the overlay. It's artistic yet simple. With the additional front split this frock was able to remain both classy and sexy. This is a great reception look for the bride or even for her bridesmaids. Yes ladies, white has become a big hit for bridesmaids get with the trend!
Do you agree with Mars or Venus on this look?
                  Check out what Mars and Venus had to say last week here.