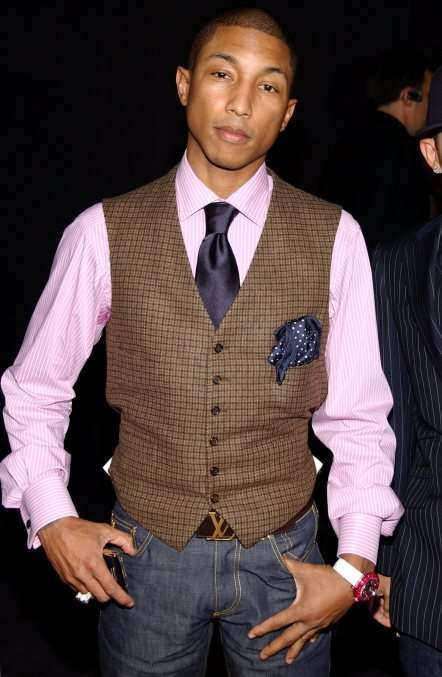 Mars thinks – Skateboard P is sporting a dapper dress down Friday look that I think would photograph really well during an engagement session. Other than the sleeves appearing a bit too long, the Grammy Award-winning producer nails this look. I'll comment on the watch only because I expect Venus to mention the accessory; I would have chosen a different watch to complement this outfit. The white and red watch caused me to scratch my head a little. This may be my first time seeing a pocket square placed in a vest pocket. Hmmmmm…I may attempt this in the near future. I'll keep you posted.
Venus thinks – First of all, is why isn't Pharrell aging? Okay, back to the fashion. I agree with you Mars, Skateboard P rocked this look. The dark denim and French cuffed shirt, tie and vest combo totally works. The pocket square takes the look up a notch. I'll even forgive the logo belt buckle (I'm not usually a fan of those; especially on someone Pharrell's age.) because everything else is so clean and modern. The watch? It honestly didn't bother me until Mars brought it to my attention. I'm more bothered by the shirt sleeves being too long. Fellas, invest in a tailor. Overall, this look is hot for an engagement session. Thumbs up!
                            Check out what Mars and Venus had to say last week here.