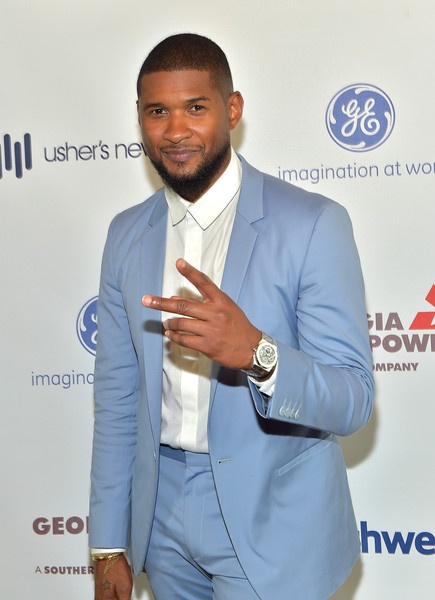 Mars thinks – There aren't many occasions that would allow one to attempt this look. Well, if you're from Harlem, this could be what you wear on a random Tuesday afternoon. The powder blue suit works well for Spring, Summer, and beach weddings. I'd suggest a bow tie or none at all. However, without a tie I would undo the top button. Overall, this outfit gets the thumbs up from your favorite cousin. Drivers or loafers would be my shoe of choice. What say you????
Venus thinks – Usher clearly likes it his way and I don't blame him! This suit worn by Mr. Raymond is stunning. Ladies, just imagine if your groom suggested a powder blue suit for the ceremony. In so many not so nice words you'd probably tell him he's lost his mind. A quick glance at this red carpet look and I'm sure you'll have a change of heart. Considering a similar look? Fellas please leave your white tuxedo shoes home (this is not the look for them). This suit can be casual or formal with the simple addition of a tie or bow-tie. This is a perfect ceremony look and may even be a bachelor party top pick!
[poll id="492″]
Check out what Mars and Venus had to say last week here.