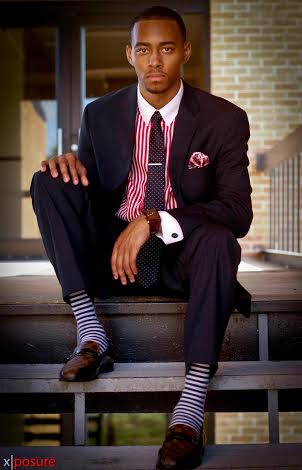 Cousin Mars thinks – This look works for him. I doubt I'd attempt to mimic this style; primarily because I may not be daring enough to wear a polka dot tie with a stripped shirt. I also think the stripe and dots combination works better for thin guys. All in all, this look gets a nod of approval from me (just not for me).
Venus thinks – The tie…shirt…and socks? Okay, at some point we have to stop with the stripes and polka dots! I'm a lover of fun fashion but this look is a little too busy for me. (And let's not forget the Louis Vuitton loafers…) I'd personally keep the shirt and the handkerchief but replace this tie with a slimmer, solid, black one. And sorry Louis but you and your socks have to go. I would have preferred black shoes and solid socks. Fellas, consider this look for your rehearsal dinner.
Check out what Mars and Venus had to say last week here.