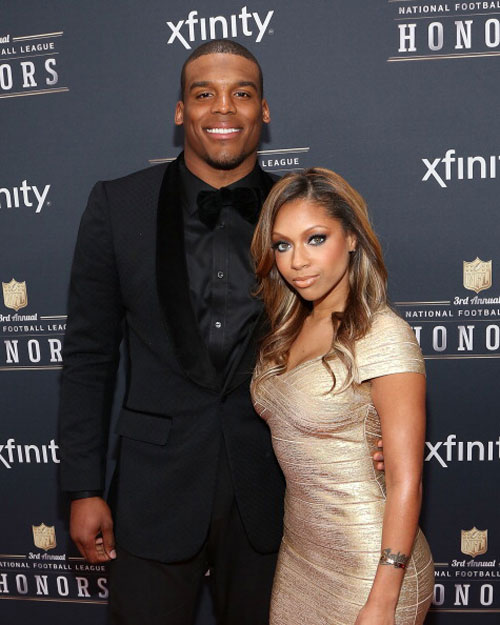 Mars thinks – Cam Newton has repeatedly proven to be comfortable pushing the fashion envelop. I've agreed with, laughed at, and scratched my head due to some of the outfits Mr. Newton has worn to post-game press conferences.This all black attire is pretty tame for the NFL Quarterback. Standing at 6'5″ and weighing 245 lbs, Cam will not find an unfavorable review from Cousin Mars. I have no issue at all with the fitted 24k dress. Gold is up in the market, right? Together, I think they look ready for a night on the town. They could even witness nuptials with their attire.
Venus thinks  – Evidently Cam pounds on and off the field! *Carolina Panthers team motto is Keep Pounding!* Cam Newton looks awesome in this back tux with velvet accent. All black is a go to especially for men and remains both classic and stylish. Would've preferred a solid tie but I won't give this handsome man too much grief. His date compliments him well in her gold party dress and what looks like gold Loboutins. Excellence option for a couple attending nuptials especially during the winter months.
          Check out what Mars and Venus had to say two weeks ago here.