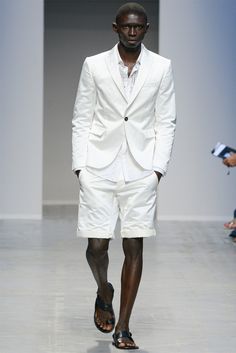 Mars thinks – Personally, I wouldn't be able to remain spotless for more than an hour or so. However, if you are one that can keep clean, this would be a cool wedding brunch look. Sporting a driver or loafer instead of the pictured footware would be my only suggestion to improve this outfit.
Venus thinks – Heading to the beach for your nuptials? Shorts and a blazer make a great look for a groom who wants to be cool and comfortable. This is the perfect look for all of your pre or post wedding activities. I would certainly trade the men's sandal for a loafer. I think the sandal would be appropriate for a more casual occasion.
                                 Check out what Mars and Venus had to say last week here.