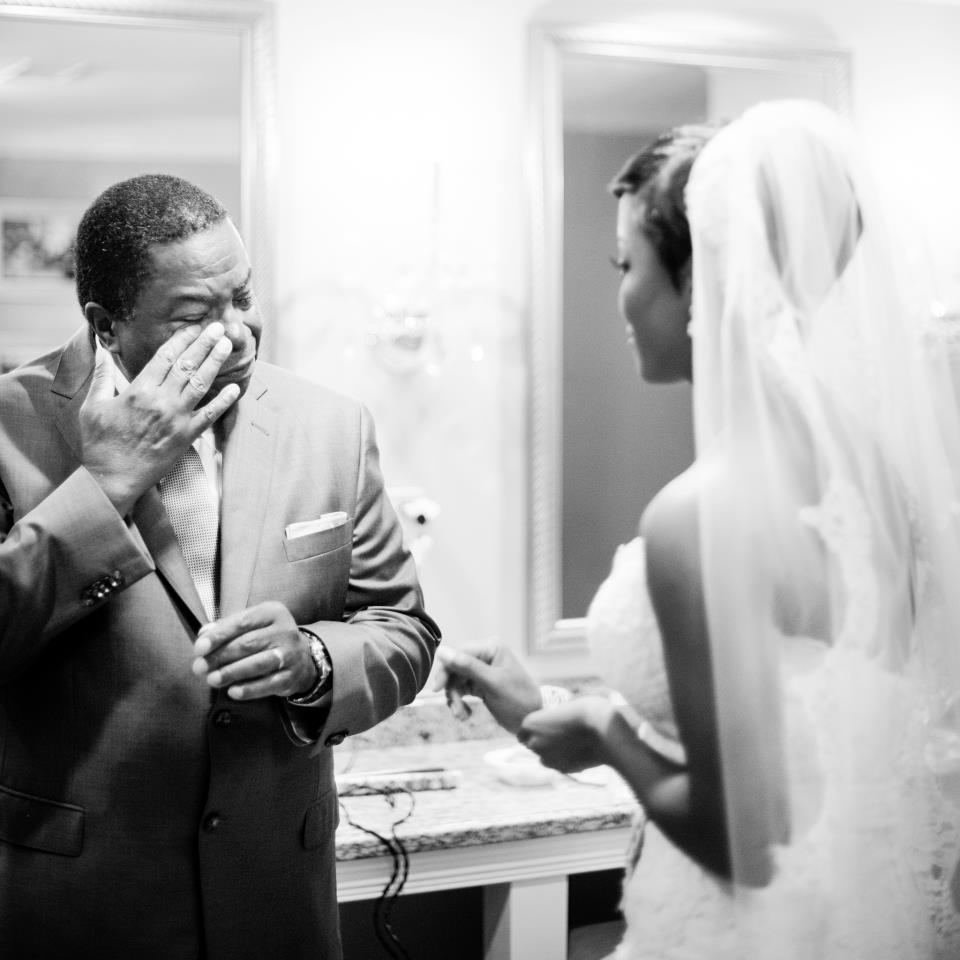 Since my last post about my upcoming wedding, my fiance and I have made some small yet significant progress. We've narrowed down the area we want our nuptials to take place and our wedding day budget plus we zeroed in on a time frame. We're also continuing those sometimes challenging conversations about combining finances and being truthful about our expectations after exchanging I Do. There's still lots to do physically and emotionally but we're both up for it and enjoying the ride.
However there's one wedding planning element that is probably the most personal and I'm thinking about it more these days. I don't think I've mentioned in my two + years of maintaining Triple B but my father is deceased. He passed away in my teen years. Before he did we were very close.
The other day I came across this Huffington Post Wedding article and immediately noticed my favorite picture from Marcus and Kenna's Tie the Knot Tuesday feature. The more I visualize what my big day will look and feel like, the more I accept that this monumental life-changing event will not include my dad. I'm becoming more grateful for the way my fiance proposed and even the engagement ring he chose because both had my father in mind. However the bottom line is: I wish he was here to experience this with me.
Don't get me wrong, I accepted my father's passing years ago — as much as I humanly can anyway — but at times I just miss him. He would be happier than a pig in mud right now that his baby girl is tying the knot. I believe in my heart of hearts that he and my fiance would have gotten along. He surely would have put him through the wringer at some point in our relationship, but I think he would have been beyond that by now. My dad loved a good party and had great taste. He didn't mind a little liquor and good joke either. My appreciation for photography and most visual arts comes from him. Helping to plan this wedding would have become a part-time job for him. I can hear my mother fussing at him about overspending when he announced he was purchasing another non-essential wedding item.
Besides acknowledging that he won't be walking me down the aisle and joining me for the first father-daughter dance — he loved to dance and I would often stand on his feet as a little girl while we danced together — I'm just missing him in an unprecedented way these days. As I'm preparing to change my last name and all that comes with that, I'm constantly repeating things to myself that my father told me growing up. Crazy how those mantras are coming in handy now.
So rather than just becoming an emotional wreck, I'm trying to channel these feelings into incorporating a fitting tribute for my father into our wedding day. I've been inspired by so many former Tie the Knot Tuesday couples and even Chris Paul's touching bar tribute to his grandfather. My fiance was also very close to his deceased maternal grandmother so maybe we'll combine our efforts to acknowledge them both. Our main objective will definitely be to celebrate their lives; not bring the spirit of the day down. The reality is facing a fatherless wedding day is tough for me but knowing who I have by my side to deal with it all is comforting to say the least.
Nothing is constant in life but change, right?
So, what are your suggestions for honoring the life of a deceased loved one for a wedding? Please share your ideas in the comments.
[Image by Scobey Photography.]