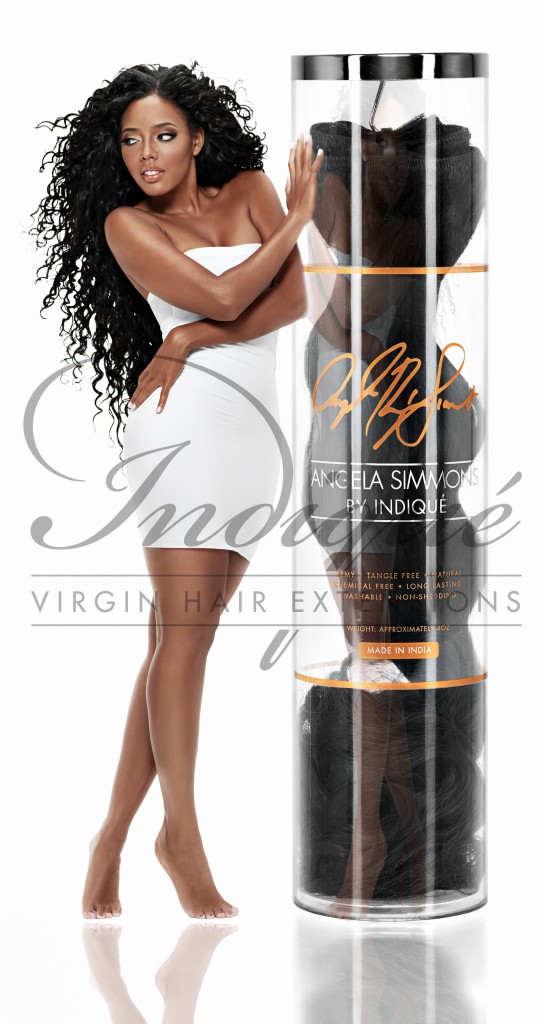 I've preached about the perks of a bride wearing her hair natural — kinky, curly or wavy and without any extentions — on her wedding day. But some brides like their hair fried, dyed and laid to the side with a few tracks sewn in and that is totally their prerogative. Isn't the beauty of being a woman, especially a Black woman, that our hair is so versatile? I think so. I also think this new line of hair from Indique and reality star turned fashion designer turned socialite Angela Simmons is Triple B worthy.
Indique is a leader in virgin human hair extensions and this marks their first-ever collaboration with a celebrity. Simmons has been a fan of the line for years and thought the partnership was a natural fit. The debut line is called Bikini and has a loose wavy texture that can work from the ceremony in a loose updo, through the reception and straight to the pool during the honeymoon. I personally think Simmons has a bit too much hair on her head in the above pic and quite liked her healthy shoulder-length doobie on Run's House much better. But, textured weaves offer the versatility and style factor many Hollywood starlets desire and I can certainly see certain brides rocking a similar look on their big day. Furthermore, I admire her entrepreneurial spirit, her fearless sense of fashion and her dedication to give back. A portion of all sales from her Bikini line will be donated to CancerCare, a national organization whose mission is to provide free professional help to individuals with cancer of all kinds through education, counseling and financial assistance.  
These strands don't come cheap — prices begin at $210 for a 4 oz. tube — but for those faithful weave wearers out there, your wedding day might just be the one time you splurge on these types of tresses. Get the scoop on how to purchase here and be sure to mention Triple B sent ya!
[Photo credit: Photography by Maya Guez]