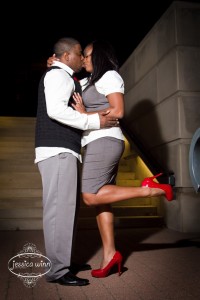 Bride-to-be: Shantel Henry, 31
Groom-to-be: Kendrick Pratt, 33
Occupations: Henry: Corporate Compliance Manager Pratt: IT Analyst
Homebase: Tennessee
When submitting her pictures Shantel informed me that she's on Triple B all the time looking for inspiration for her spring nuptials. (Yay!) "Maybe our photos will help other brides too," she shared. Enjoy the engagement pictures of nearlywed couple Shantel and Kendrick!
[cincopa AMPAA06GCzR9]
[All images by Jessica Winn.]
Take a look at past Tie the Knot Tuesday features here.
***Did you or someone you know recently tie the knot? Complete this brief form and the wedding just might be featured in an upcoming Black Bridal Bliss feature!***