Please enjoy today's post by Triple B guest blogger, Jennifer Vishnevsky. Vishnevsky is a contributor to Top Dentists, an online consumer dental health site, as well as freelancer for other top lifestyle media outlets.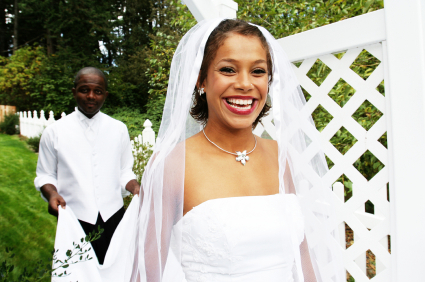 Wedding bells are ringing and sparkly teeth are ready to shine! Teeth whitening is an important part of the wedding prep but with so much going on during this exciting time, at-home options might be your best bet. While most consist of the same two substances – carbamide peroxide and hydrogen peroxide – the primary difference is that bleaching solutions found in each treatment contain different concentration levels. The concentration of materials in the at-home options is less than what is provided by a dentist but still an effective option. Here are five of the best at-home options:
1.    Supersmile Professional Whitening System. This system is easy to use, causes little sensitivity and removes surface stains. It is as easy to use as a toothbrush. This system doesn't require a big investment of time, so it fits into even the busiest lifestyles. The 5-piece, 30-day system includes a whitening pre-rinse, toothpaste, accelerator, activating rods and soft bristle toothbrush. Brush your teeth for two minutes, twice a day, for dramatically whiter teeth without trays or strips. The Supersmile System not only whitens natural teeth, but it enhances professionally bleached teeth without the danger of over-bleaching. Supersmile also restores bonded teeth and veneers to their original color.
2.    Crest 3D White Whitestrips Advanced Vivid provides fast results, stays in place and is easy to use. However, this system may cause tooth sensitivity and can be difficult to remove. Whitestrips give you a dramatically whiter smile in 14 days, but you will start seeing results in just three days. Advanced Seal technology provides a form fit, no slip grip that molds and adheres to your teeth for a better whitening experience. All Crest Whitestrips use the same enamel safe whitening ingredient as whitening with most dentists. These Whitestrips also won't interfere with talking or drinking water.
3.    Rembrandt Whitening Strips are one of the easiest at-home options. You will start to see results in four days. Slide the thin plastic film over your teeth and let the treatment soak in for 30 minutes once a day. These strips are comfortable to wear — there's no goop. Intense Stain dissolving strips noticeably whiten tough surface stains. They conveniently dissolve on teeth in just 5 to 10 minutes. You will notice whiter teeth in two weeks plus the strips also protect against the build-up of future stains.
4.    Aquafresh White Trays are pre-filled disposable trays that you wear for 45 minutes a day. However, you can see results in just one day. The trays are disposable and also ensure that peroxide makes contact with the teeth, which makes the whitening convenient. The thin, flexible shape of the trays gives you a custom fit. The trays are sized differently to fit upper and lower teeth.
5.    GoSmile Advanced Formula B1 ampoules show results in two days. Pop open an ampoule and swab on the whitening formula twice a day for two minutes until the desired whiteness is achieved. There is no rinsing or brushing required. This system provides some of the most noticeable effects.
Happy Wedding Day!