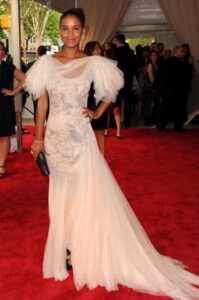 I enjoy looking to unconventional resources for inspiration in just about everything that I do – from home decorating to hairstyle selections. When and if I do have a "wedding", I can totally see myself buying my dress at a second-hand shop or some other random place that will drive my mother batty. So I'm downright giddy to highlight select picks from Monday night's Costume Institute MET Gala in New York City as inspiration for creative wedding gowns here on Triple B.
(Confession: Attending the MET Gala is on my life's bucket list. Maybe 2011 will be my year!) Ladies, don't be afraid to look to the red carpet for sleek hair and make-up cues for your big day as well.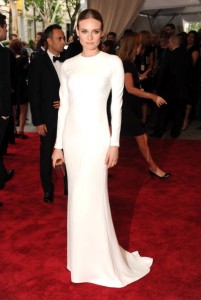 So, let's start with Diane Kruger's gown. If you lose the sleeves, make it a halter and ensure your version is backless, this can make for a sexy yet sophisticated wedding dress. Perfect to wear to an after-five ceremony.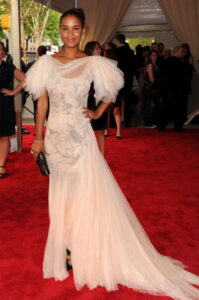 This is definitely not my fave look on Joy but minus the print underneath the sheer overlay and a few additional but minor tweaks (less volume in the sleeves, maybe?), I can totally envision a trendsetting bride saying "I Do" in this dress.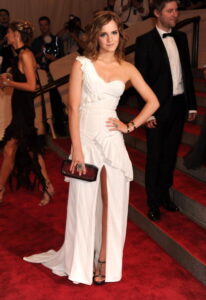 Shorten the split on the dress and move it over a tad in either direction and this dress is ideal for a backyard or beach wedding, no? (By the way, I checked out David's Bridal Spring 2011 press preview a couple weeks back and one-shoulder dresses are still definitely still relevant…more on that later!)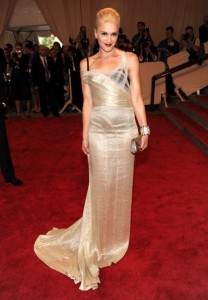 Substitute the black bustier for an underpining the same color of the dress and this style can work for a funky fashionista bride tying the knot in a cool venue like a loft or winery. Gwen rocked it in champagne, but the gown would look just as smashing in white or ivory.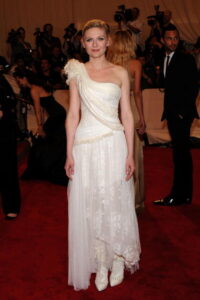 Okay…I know the boots are distracting. But, if this dress were longer (at least another foot in the front) and worn with different footwear (maybe shoecrush.com has a few options?) it could work as a gorgeous wedding gown.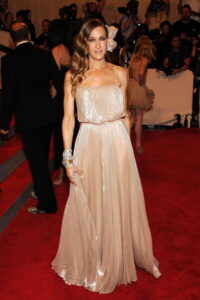 Some fashion critics hated on SJP in this vintage-inspired number but I quite like it. I would keep it in the same champagne hue (the metallic sheen might start to look cheap in pure white) and strongly suggest it for a stylish bride's second and/or island wedding. The hair accessory is fab, too.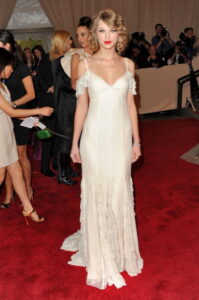 Bohemian brides-to-be take note, this dress is perfect for you. I think a birdcage veil would set this off nicely for an outdoor wedding.  Sidebar: I love how her matte red lipstick pops in this shot!
What do you think of these gowns? Which one(s) would you consider wearing for your own big day? Leave me a comment with your thoughts.
Pics courtesy of glamour.com