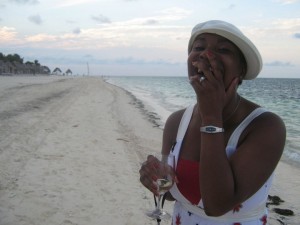 I should've written this post hours ago but Sean and I have been going back and forth discussing our wedding colors. OMG! Who knew colors could be so intense? Instead of trying to find colors we both agree on, I'm trying to gather my thoughts. Which brings me to the reason for this post.

Although I began writing for The Road To Mrs. column last December, my wedding isn't happening until this September. With less than six months to go, the closer I get to my big day, the more I realize that blogging weekly is no longer realistic. I need to focus on my planning.
So after careful consideration, I've decided to scale back my Road To Mrs. posts. My posts will be on a monthly basis after today until August. Please know how much I appreciate Bridgette and the BBB readers! Thank you for making me feel so welcome. I plan to wrap things up on a high note: you can expect expert tips, hilarious videos and maybe even a few tears. Trust me, these posts are not to be missed!
Sincerely,
Nadine
Editor's Note:
Please join me in thanking Nadine for being so gracious in this explanation of her new blogging schedule. Truth is, I've never planned a wedding so I sincerely thought that Nadine posting here weekly until September was realistic. This should be a happy time in her life so the last thing I want Triple B to do is stress her out. Hey, I'm grown enough to admit when I'm wrong. With more than a couple gigs at the moment (not including Triple B), I struggle with work-life balance myself. However what I will never apologize for is my commitment to giving Black brides (of all sizes, shades and incomes) a place to be celebrated, welcomed, informed and sometimes humored. This is so much bigger than lace and tulle.
Nadine and I are still finalizing exactly when her blogs will post going forward (I'll try to keep it on a Thursday). In the meantime, catch up on all her past Road to Mrs. musings here and leave her a comment with your own advice on staying focused while wedding planning.
The best is yet to come!
Bridgette