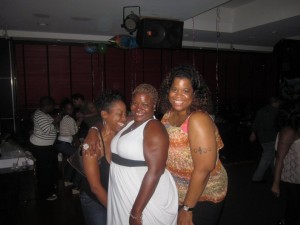 Okay, it's official. I had my first bride-to-be melt down moment.  It has all been so easy thus far, that is until it came down to dress shopping for the bridal party. Can you say EPIC FAIL?

For those who have been following my past blog posts, you know I am not a girly-girl.  So needless to say I felt completely overwhelmed just walking into the bridal store.  The only expectations I had for the day were from what I have seen on television. We went to a popular bridal chain store, and let me say it was nothing like it appears on TV. I thought I was ready. I was armed with style numbers I selected off their website. All three ladies were present and accounted for. I expected to have a very productive day, but we walked out with nothing. It was chaotic, unorganized and disheartening. I felt as if I was navigating a labyrinth with no guide. It was awful; I was more confused leaving than when I got there. I was so disillusioned by the experience; I even asked Shawn if we could revisit the City Hall idea. He nixed that plan quickly.
My girls range in age and body type. We found no one style fits all option. It is important to me that everyone in the wedding party look and feel beautiful and confident in their dress. I don't want to make a generic "this is it" choice. I just feel if they are unhappy in what they have on that sentiment will translate in the pictures on wedding day, and who wants that? I never understood the mind-set of putting bridesmaids in ugly dresses so the bride can look better. Won't the bride shine regardless? It is her day after all. Not to mention what are you proving? You will be the one stuck with hideous pictures for a lifetime.
I know time is short, so we are back to the drawing board immediately. I am hopeful our next outing will prove more successful than the first.  Lord knows my nerves can't take it any other way.
On a more positive note, this past weekend we celebrated my soon to be mother-in- law's birthday. We had a really great time with quite a few of my future in-laws, at a family dinner.  Both Shawn's mother, as well as my Mom lives in different states, so the opportunity to spend quality family time is priceless. And boy oh boy did we turn that restaurant out! A good time was had by all.