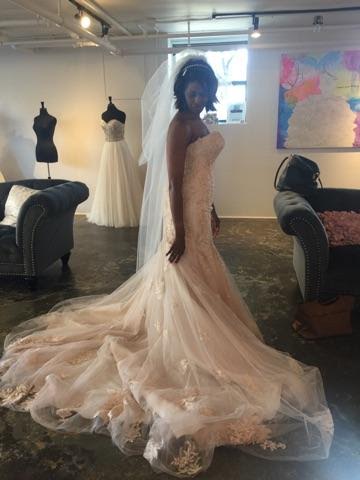 Wedding dress shopping.  Oh. My.
I was certain I was adequately prepared for wedding dress shopping. I mean all of those Friday nights I spent binge watching TLC's Say Yes to the Dress – how could I not know what dress I wanted? I may have mentioned before that I was serial bridesmaid. 27 Dresses anyone? Okay, so I haven't been a bridesmaid 27 times, but I have been honored to be in at least 7 weddings. Because I had experienced wedding dress shopping with many of my girlfriends, coupled with my incessant viewing of Say Yes to the Dress reruns, I was certain that I knew exactly what type of dress I would wear on my wedding day.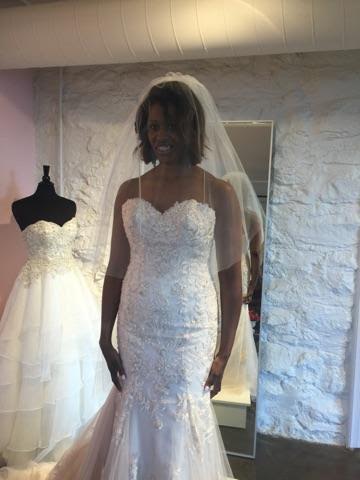 Wedding dress shopping in my head was something like this: Fly my mom, my aunt, a few bridesmaids and my future M.I.L. to New York City. Spend the day shopping at Kleinfield Bridal, trying on dresses from various designers, with varying price tags, because my dress shopping budget was unlimited…duh. After a day of trying on dresses for my mother and crew, I would "say yes to a dress" and pop a bottle to celebrate.
So, my real dress shopping experience was not like the experience in my head — clearly. I went dress shopping the day after we got engaged. Totally premature I later realized as I had no budget nor wedding date, but being lost in the sauce, I thought that since I was home for the holidays and had the opportunity to shop with my mom, aunt and some of my best girlfriends, I should at least attempt to bring my wedding dress vision in my head to fruition. Um, not so much. I was able to make an appointment at a well-known, local bridal boutique, which housed hundreds of beautiful designer wedding gowns. Suddenly, all that I thought I knew about wedding dresses was a blur. I wanted a mermaid style dress —no, let's try on the tulle ball gown – wait, this lilac colored fit and flare might be it — eek! I was going mad! What did I want? I really had no clue. I tried on several dresses and realized that I had no idea as to what dress I could see myself wearing on my wedding day. The experience was not in vain however. I had a realistic idea regarding wedding dress costs and better understanding of the styles that fit my post-child bearing, mid-thirties, grown woman body.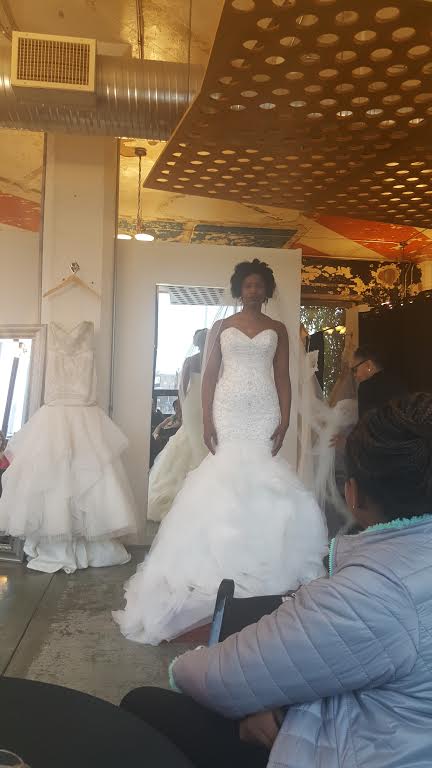 Once I had a wedding date and my self-imposed 90 day wedding planning moratorium had passed, it was now finally time for me to search for a wedding gown. I also had a dress budget in place and I was not going to be all Rick Ross and B.M.F. (blowing money fast) on a wedding dress. Hmpf. So, Memorial Day Weekend, I was visiting my parents and thought during that time, I could gather my mom, daughter, and two of my best girlfriends on a wedding dress shopping excursion. Since I had prematurely tried on gowns, I had an idea of what style of dress I wanted, what I hadn't accounted for was the style of dresses that my accompanying peanut gallery wanted me to try on! After trying on several dresses that my entourage envisioned me wearing, I finally tried on a dress that I chose — beautiful, blush, full lace, sweetheart gown that even my peanut gallery loved! Was this my dress?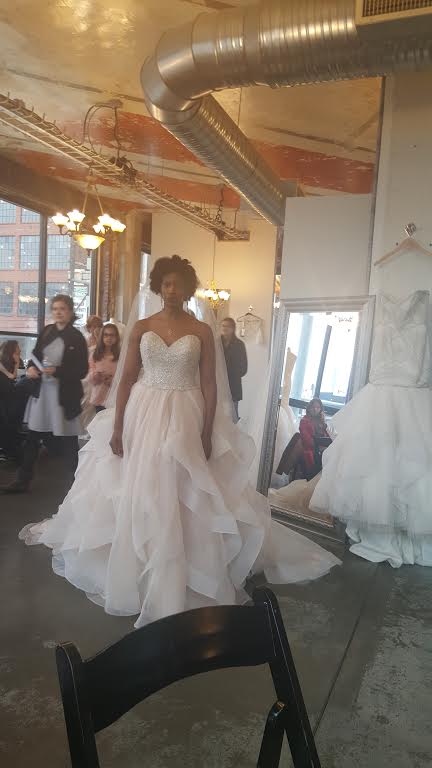 What was your dress shopping experience like? Did you "say yes to the dress" to the first dress you selected?
Did your ideal dress change once you began wedding dress shopping?
Check out last week's road to Mrs. post from Keisa here!