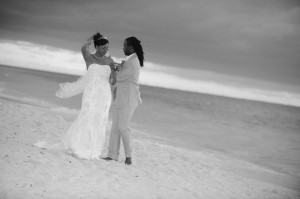 Bride: Chifonda Kelly, 36 Groom: Euan Henry, 40 Occupations: Kelly, school business administrator; Henry, photographer
Homebase: New Jersey Wedding Date: December 12, 2010
Wedding Location: Wedding & Reception – Grand Cayman Suites, Grand Cayman Island
Church Social "We met at church during a new membership class. I was in line and she tried to skip me," says Euan laughing about his new wife, Chifonda. He adds with a serious tone, "I thought she was an attractive woman." Her line skipping apparently paid off because once the pair started chatting, there was a connection. Before too long they were hanging out and eventually dating. "Euan let me know from the door what he wanted in a relationship," says Chifonda. "He was open with his feelings. I hadn't met guys before him that were as honest with their feelings," she adds.
Opposites Attract Although the duo hit it off, Chifonda notes that they learned there were many things they didn't have in common. "We're totally opposite. He's crafty, I'm more business-orientated. He's silly, I'm serious," she explains. But the traits that mattered most to the couple were in sync. "We're constantly trying to build each other up," says Chifonda. "He genuinely cares about me and my well-being," she adds. Euan echos this sentiment. "Chifonda is very motivated and very spiritual. We refined our dating process…Neither one of us are spring chickens," he says with a chuckle.
[cincopa AINA-dqLH56x]
[All images provided by Better Angle Photography and Euan Henry Photography.]
'O Christmas Tree "Chifonda is originally from South Carolina so I enjoy taking her to new places in New Jersey and New York," says Euan. It is fitting that he decided to ask his beloved to marry him in The Big Apple. "I wanted to propose in Central Park," he shares. However, that plan backfired because the couple got a late start. Instead they ended up at another NYC landmark, Rockefeller Center. "She wanted to take a picture in front of the tree so we went and that's where I proposed," explains Euan. Chifonda happily accepted her sweetie's proposal but admittedly had a delayed reaction. "She thought I was taking her picture at first," Euan says with a laugh.
Caribbean Dream Before 34 close friends and family members, Chifonda and Euan became husband and wife on the Grand Cayman Island. They chose Grand Cayman for good reason: Euan (who first visited on a cruise) took Chifonda there for her birthday and she instantly fell in love with the beautiful people and surroundings. "We knew that we wanted to get married there — it wasn't even a discussion," she recalls. While getting hitched destination style can eliminate some planning headaches, the couple still had their fair share of issues such as ensuring custom clearances were in place. "We definitely had our times of frustration. But there shouldn't be a high level of stress when planning a joyous occasion for loved ones. When those moments arose we had to regroup and put things in perspective."
Chifonda's Money Saving Tips for Future Brides:
Think Big Picture: The Henrys suggest creating a realistic wedding budget and agreeing to determine where you want to be financially after the wedding. "We budgeted for both the wedding and the honeymoon," says Chifonda.
Expect the Unexpected: Unforeseen circumstances will always pop up when planning nuptials. "We had car trouble and last minute visa issues," remembers Chifonda. When budgeting for your wedding consider allotting for a miscellaneous line to cover such expenses.
Destination Do's: "Watch out for hidden fees that often pop up at resorts. Be sure to read all the fine print," warns Chifonda.
Take a look at past Tie the Knot Tuesday features here.
***Did you or someone you know recently tie the knot? Complete this brief form and the wedding just might be featured in an upcoming Black Bridal Bliss feature!***