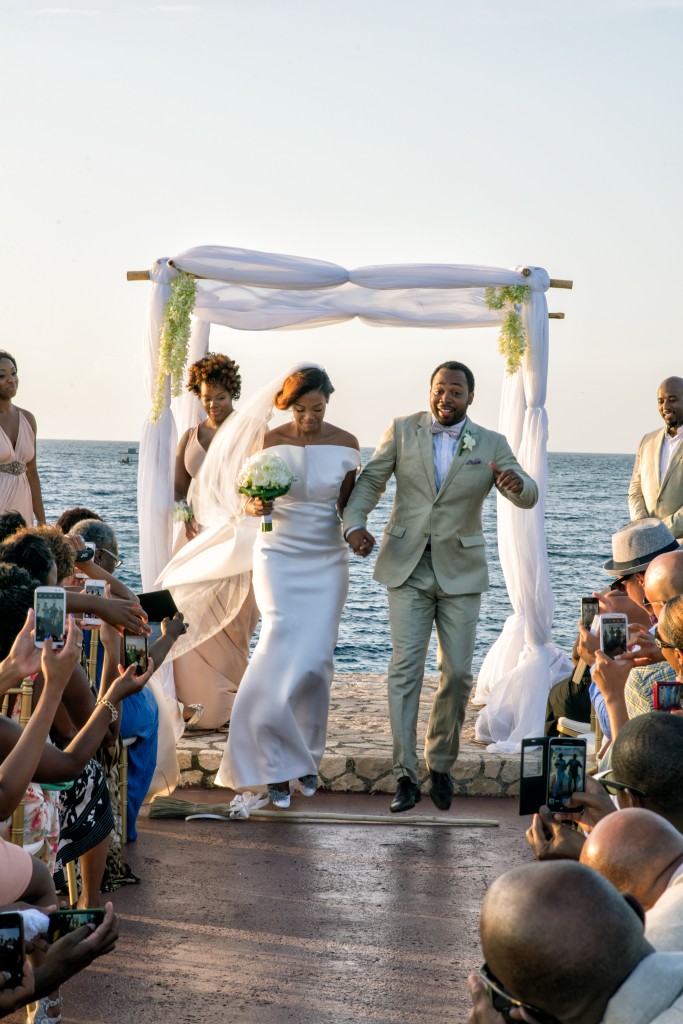 Couple: Danielle and Antijuan
Wedding Date: August 22, 2014
Wedding + Reception Location: The Rockhouse; Negril, Jamaica (West Indies)
Wedding Theme: Our Night of Forever
Let's Do Brunch "Antijuan and I met in 2013 at a brunch that my single girlfriends and I were having.  Somehow we decided just before brunch to invite our guy friends and tell them to bring their friends – Antijuan was one of those guy friends," recalls Danielle when asked how she and her husband met. She adds, "Prior to that, we actually had met at a friend's birthday party but he didn't remember me. I like to say it was in the stars." Antijuan shares of his first time "formally" meeting his wife, "Danielle's smile radiated so much. I thought she was absolutely gorgeous." 
Separate But Equal "In Antijuan I had found my equal. Neither of us were asking for more than the other was providing. There were not false pretenses and it was the most honest I've ever been with someone. I was never afraid that I'd be met with doubts, untruths or shutdowns," confesses Danielle. Antijuan agrees. "Danielle had such a deep love of life and it was intoxicating. I felt like I knew her all my life. It was so casually romantic; like dating the girl next door!" 

[cincopa AUFAUTsRbfjb]
[Images by Donald Darling.]
Long Distance Love Affair "The first year or so of our relationship was long distance between Boston and New York. However, it only took a few months for us to know that we wanted to be with one another more permanently. Antijuan says, "We started out long distance. The fact that we kept each others attention in a world with so many distractions said so much." After some planning and a leap of faith, Antijuan moved to New York having known all along that he planned to propose to me," Danielle reminisces. After one fun-filled evening on Valentine's Day — which also happens to be Antijuan's birthday — Danielle shares how her boo-thang popped the big question: 
"You're my best friend and Danielle Stewart I want you to be my wife"
[JAW DROPS!]

I hit him with all kinds of questions…
Are you sure?
How long have you known?
Are you serious?
Are you sure?
And then I realize that he's looking at me like I'm crazy because he's waiting for me to answer because he's on one knee.
So I say "Yes"
Cues tears and more questions, "Are you sure?" But that's what happened!
Antijuan shares, "I wanted the proposal to be intimate and personal. It's something between us and not the world, so I chose to do it with just her and I."

Destination Lovely The NYC lovebirds decided headed to the Caribbean for beachside nuptials. "The Rockhouse is a quaint boutique hotel in Negril, Jamaica. Having a small guest list allowed us to make the experience as exciting and engaging as possible. The intimate nature of the hotel created the feeling that the entire venue was ours alone," Danielle explains. The entire affair exudes the couple's stylish taste — with an island twist — as shown in their wedding photos. From the rum wedding cake (to pair with the ever-flowing rum punch) to the designer threads juxtaposed with DIY decor, Danielle and Antijuan's nuptials were true to who they are. "We had 55 guests attend our wedding. Every person there was special to us and that's exactly how we wanted it," boasts Danielle. Antijuan's most memorable part of their reception? "The entire wedding jumped in the pool!" Seems like these two are off to an exciting beginning as husband and wife.

Danielle's Budget Bridal Tips for Future Brides
Danielle the DIY Diva "I designed our invitation, programs and tablecards."

Bargain-shop "I purchased our centerpieces from Marshall's and had them shipped to Jamaica."

Friends with Benefits "I leaned heavily on my friends and their connections which allowed me to execute my vision and save a few dollars with their discounts."
Wedding Vendors:
Wedding Gown: Peter Langner (purchased at Kleinfeld)
Bride's Jewelry: H&M and Macy's
Hair + Makeup: Maid of Honor
DJ: Paul Dilworth of Sound Illusion Entertainment
Florist: Floral Fantasy
Photo: Donald Darling
Shoe Designer: Manolo Blahnik
Groom's suit: Bonobos
Bridesmaid's dresses: Lois London
Danielle is also a popular style blogger (Triple B attracts the coolest brides!) so feel free to check her out over here as well.
Take a look at past Tie the Knot Tuesday features here.
***Did you or someone you know recently tie the knot? Complete this brief form and the wedding just might be featured in an upcoming Black Bridal Bliss feature!***