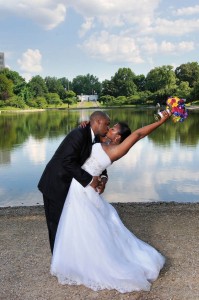 Bride: Gwen Jimmere, 28
Groom: Endion Williams, 31
Occupations: Jimmere, digital marketing executive and author; Williams, chef
Homebase: Michigan
Wedding Date: July 11, 2010
Wedding Location: ceremony: Italian Cultural Garden; reception: The Manor (both in Cleveland, Ohio)
Catch of the Day! Gwen was nervous about signing up for the new yet growingly popular dating site plentyoffish.com, but after convincing a friend to join, she caved in and hopped on the train as well. "I didn't put much effort into it as I wasn't looking for a relationship at the time," admits Gwen who has penned a dating, relationship and self-love manual called, If It Walks Like a Duck…and Other Truths My Mother Taught Me. She happened upon Endion's profile and was immediately impressed by his sharp pic wearing a business suit and his gramatically correct bio. "I'm a stickler for grammar," she admits with a chuckle. Endion was also impressed by Gwen's profile. "I was surprised someone so pretty was contacting me," he remembers. Once the two connected they quickly became phone buddies; chatting each other up for up to seven hours a day…daily!
Telephone Love "We have so much in common so it was very easy to talk to him," shares Gwen. She adds, "We would fall asleep on the phone, like folks used to do when they were teenagers." The pair eventually met in person and, soon after, became an official couple. Endion says between laughs, "A lot of people would call us corny for this but we sing random songs together in the car." He adds, "I've never been able to do that with anyone that I dated in the past." Their connection was so strong that Endion decided to ask for Gwen's hand in marriage at the same Ethiopian restaurant where they had their first date after less than a year of dating. "The entire restaurant stood up and clapped for us. It was one of the best days of my life," recalls Gwen.
[cincopa AMCA-n61M6At]
[All images, excluding honeymoon pic, by Deluca Photo.]
 And Baby Makes Three In October 2009 the couple was engaged and set a wedding date for September 2010. But in the spring of 2010 when Gwen learned she was pregnant, they moved the date up to July. The newlyweds are now the proud parents of a precious baby boy. Though head over heels in love, being first-time parents proved to be very stressful on the newlyweds. "Children weren't in our [immediate] plans. It was the most beautiful and most challenging time for us. We had many sleepless nights," Gwen remembers. "There was a lot of arguing just after our son was born," adds Endion. In hindsight the couple agrees that those frustrating weeks only made their bond stronger and helped prepare them for the years ahead. 
Home Again Since both Gwen and Endion are natives of Cleveland, Ohio, they decided to return home to tie the knot. The twosome wed before 130 loved ones in an outdoor ceremony and moved indoors for the lively reception. "I danced the entire night!" shares Gwen. The affair was excuted beautifully with the assistance of Angela Wish of A Wedding Wish who served as their same day coordinator. "She was amazing and made everything much less stressful," Gwen reports. Endion leaves these words of wisdom for future grooms, "I know it seems like a lot but enjoy it. Take a moment to look at your beautiful wife, look at everyone around you having a good time; laughing and dancing. Just enjoy it because it all goes by so fast."
Gwen's Money Saving Tips for Future Brides:
Murphy's Law
"I forgot my veil in the hotel room!" recalls Gwen. The bride could have gone into panic mode but she saw the bigger picture and let it go. Chances are something will go wrong on your big day too so don't go broke trying to fix every mishap. 
Number Crunching
"I went back to my advertising days during the wedding planning and used the three bidding rule to book a lot of our vendors," explains Gwen. This biz saviness saved the couple lots of cash for their nuptials. Her frugalness helped the couple score their ceremony venue for a mere $150!
Reality Bites
Accept that you probably cannot have everything you want for your wedding day…and that is okay. Gwen reveals, "I wanted chiavari chairs but they were out of our budget. We kept everything in perspective and paid for the entire wedding in cash."
Take a look at past Tie the Knot Tuesday features here.
***Did you or someone you know recently tie the knot? Complete this brief form and the wedding just might be featured in an upcoming Black Bridal Bliss feature!***