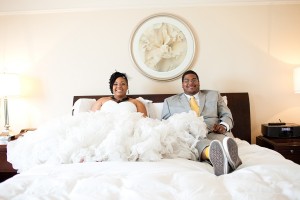 Bride: Kahran Hill, 31
Groom: Regis Bethencourt, 34
Occupations: Hill: Graphic Designer; Bethencourt: Photographer
Homebase: Georgia
Wedding Date: September 3, 2011
Wedding Location: Ceremony & Reception: Porterdale Mill in Porterdale, Georgia

Business Before Pleasure "We met through an African-American graphic designer's forum," says Kahran when asked how she and her beloved Regis got to know one another. "Reg was a moderator on one of the forums. He sent me a message on my birthday and that's how we connected," she continues. Their mutual interest in graphic design initiated a friendship that eventually lead to more. "My first impression of Kahran was that she was overwhelmingly sweet and respectful," shares Regis. Kahran thought Regis was "really sweet" as well but says, "When we first started talking on the phone it was awkward." Once the twosome became more relaxed around each other a budding romance took flight.

Distance Makes the Heart Grow Fonder Since Kahran was living in Oregon and Regis was based in Maryland, the couple struggled through long distance ups and downs for well over a year. "He's really romantic. He always sent me playlists and notes," gushes Kahran before mentioning that the duo are both homebodies. Regis reveals what brought out his inner-romantic, "I enjoyed the fact that she had an genuine interest in me. When dating someone, I hate feeling like I have to prove myself worthy.  I liked just being able to enjoy each other without overcomplicating things like adults usually do." He adds, "Everyone talks about how you can't relive the first crush experience again, but that's exactly how I felt while dating Kahran." 
[cincopa AYDAdyqPXhTc]
[All images by Caroline Fontenot Photography. Second Shooter/Photo Booth Image by Ben Massey.]
Artists at Heart After a couple of job switches and Regis's decision to return to school, the lovebirds landed in Atlanta. "Having to endure long distance for so long proved that we were both invested in the relationship," says Kahran. They realized they were also both invested in photography. Kahran shares that both enjoyed snapping pictures of each other as a hobby but was still surprised that in 2008 they launched CreativeSoul Photography. "I didn't think it would turn into a business!" she admits. And while she and Regis were on a job shooting another couple in Kahran's homestate of South Carolina, Regis asked Kahran to be his wife. "We were in the middle of a field of tall grass," says Kahran laughing. "Kahran gets me and loves everything that comes with me — including my flaws. She supports me through it all. Kahran is just an awesome individual and everything about her prompted me to ask for her hand in marriage," explains Regis.

Our Day, Our Way The creative team went with the theme of  "Natural Glam" for their big day. They enlisted the help of Events Boutique to help execute their memorable affair. Staying true to their artsy aesthetic, every single element of their nuptials was truly them — from the unconventional bridesmaid dresses to the couple's first dance selection. The refreshing hues of yellow and grey mixed with black set the scene for the day. "I wanted a color palette that was kind of modern," she shares. Kahran was relieved to see all her hard work paid off, "The most memorable part of the ceremony was probably walking down the aisle and seeing how everything came together. All the drama just went away." Regis agrees. "I didn't enjoy seeing Kahran stressed during the planning process. So the end of the ceremony was symbolic. It was like an end to all of the stress and a beginning to everything beautiful."
Kahran's Money Saving Tips for Future Brides
Prioritize Based on Your Taste Although many bridal resources might suggest that you allocate a certain amount of your wedding budget on flowers, transportation, etc. it is best to first access what is most special to you. "Prioritizing is important. For example, I didn't care about flowers so I spent less money on that line of my budget than many brides might have," shares Kahran.
Make the Web Your Friend A savvy bride, Kahran found her bridal party's unique ensembles and her own stylish accessories online. "I relied on Etsy and Pininterest a lot while planning my wedding," she reveals.
Think Outside the Bridal Box "Instead of engagement photos, we took day-after photos. I wanted to wear my dress more than once," Kahran shares. She adds laughing, "Plus, we were staying at the St. Regis Hotel in Atlanta so we took advantage of our time there."
Take a look at past Tie the Knot Tuesday features here.
***Did you or someone you know recently tie the knot? Complete this brief form and the wedding just might be featured in an upcoming Black Bridal Bliss feature!***