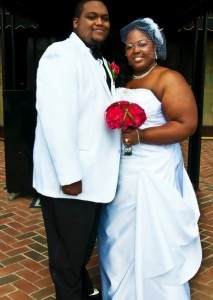 Bride: Kelly Griffin, 34
Groom: Bryan Williams, 27
Occupations: Griffin, higher education administrator; Williams, healthcare professional and aspiring R&B singer Homebase: Philadelphia
Wedding Date: September 25, 2010
Wedding Location: Maggiano's Little Italy Restaurant; Cherry Hill, New Jersey
Teacher's Pet: Kelly Griffin tried to ignore the flirting from student Bryan Williams while he was attending the college where she worked. But eventually his persistence paid off. "I asked him to write me a letter – and he did," recalls Kelly with a chuckle. In the letter, Bryan expressed his romantic interest in Kelly and asked her to call him if she felt the same way. Knowing that this was a trick to get her telephone number, Kelly called him from her office at work. The twosome laughed about the trickery and Kelly soon admitted that they did have a connection. "She was smart, beautiful and had a goofy side to her," Bryan explains of his first impressions of Kelly.  So after two years of a strictly platonic friendship, the pair started dating in 2008.
Age Ain't Nothing But a Number: Kelly admits that the seven-year age difference between her and Bryan was initially a concern. She also recognized that she was further ahead in her career than he was and this at times proved to be frustrating for them both. "The age difference did make me hesitate but he was very sweet, considerate and respectful," says Kelly. Bryan proved to Kelly that he was serious about them being together and assured her that he could maintain a household financially. "She makes me want to be a better man," reveals Bryan.
[cincopa AkNANSabQ3sY]
Photography by Quentin Perkins
I'm Ready If You're Ready!: Every married couple's road to marriage doesn't begin with a sappy proposal on bended knee.  After dating for two years both Kelly and Bryan were starting to feel the marriage itch. "We were in the car waiting to go into a fight party. It was a mutual decision," explains Bryan. "He said, 'I'm waiting on you!'" Kelly recalls. From there Bryan picked a date and the couple began planning their nuptials. "I didn't even have an engagement ring," adds Kelly. The new bride now laughs at people who seemed disappointed when she told them she had no bling to symbolize her pending marriage to Bryan. "[Some people] are so superficial. I had been engaged twice before with diamond rings but those relationships went nowhere. What mattered most was how Bryan treated me," says Kelly.
Sweet & Chic: The Philly-based couple chose an Italian restaurant in neighboring south Jersey to jump the broom and host their afternoon wedding and reception. "My mother attended a wedding there and she raved about it," says Kelly. About 80 guests came out to celebrate Kelly and Bryan's union. An R&B crooner on the rise, Bryan sang his sweetie down the aisle to "When I First Saw You" from the "Dreamgirls" soundtrack. "It was my most memorable part of the ceremony," remembers Kelly. "I chose that song because all the lyrics pertain to how I feel about Kelly," says Bryan. He adds, "It's just been wonderful ever since!"
Kelly's Money Saving Tips for Future Brides:
Frugal Fashionista: As a former fashion merchandising student, Kelly knows a thing or two about style. She also proved that she knows quite a bit about budgeting because her entire wedding cost less than $5,000. "I was the budget queen!" she laughs. She scored fuchsia carnations (300 stems) from Sam's Club for $130 and had a family friend arrange them as a wedding gift. The flowers were used in everything Kelly's bouquet to the reception centerpieces. The couple also received their wedding cake as a gift from a loved one.
Do You Know What Time It Is?: Instead of serving a traditionally costly dinner, Kelly and Bryan opted for a lunch menu. The cost? Twenty-two dollars per person and guests that were well fed. "The restaurant is family-style, so everyone was able to eat as much as they wanted," Kelly explains. Since their wedding took place earlier in the day, the couple skipped the open bar, which saved them a significant amount of cash as well.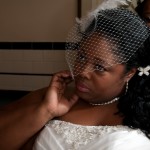 Getting Centered: Kelly was a DIY diva and created her lovely reception centerpieces herself. She placed Grannysmith apples in water-filled vases after seeing them executed on an episode of "Whose Wedding is It Anyway?" The result was simply fabulous and complimented her damask and fuchsia color scheme perfectly.
Take a look at past Tie the Knot Tuesday features here.
***Did you or someone you know recently tie the knot? Complete this brief form and the wedding just might be featured in an upcoming Black Bridal Bliss feature!***