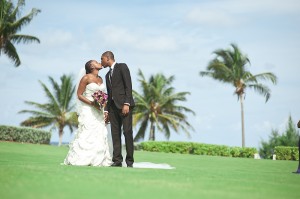 Bride: Olesha Haskett, 26
Groom: Alie Basma, 27
Occupations: Haskett: photographer; Basma: business owner
Homebase: Maryland
Wedding Date: November 11, 2011
Wedding Location: Ritz Carlton Resort and Spa; Montego Bay, Jamaica

Flirty Freshmen College co-eds Olesha and Alie were just getting settled into university life when they met nearly a decade ago. "We met while I was walking to freshman orientation. He could not believe there were two "rastas" on our small predominately White campus. He was in the car with the other," recalls Olesha about her first encounter with her husband. "I was driving across campus and I saw her walking, so I asked her if she needed a ride," explains Alie. "We started off as friends but he was being a slow poke so I made the first move," jokes Olesha. Alie continues, "My first impression was that she was quite unique and different from what I was used to…But I was interested." Olesha agrees, "He wasn't used to dating Black women." She adds, "At first I thought he was just too much! He was so full of himself. He had enough confidence for the entire world. He still does." Nevertheless the friendship progressed into a courtship and while they both say it took some adjusting, a serious bond was formed between the couple.
Support System "I realized I loved my habbibi when he wouldn't let me drop out of my photography program. I was stressed from multiple projects, cramped living quarters and bad food. He believed in me when I did not believe in myself. Although now he says my projects were some of the worst he ever saw!" Olesha reveals. Allie echos Olesha's sentiments. "Probably a month in, I couldn't stop hanging out with her or just wanting to be around her. I realized then that our relationship was something I could get used to forever."
[cincopa AwOAF3qzofkm]
[Images courtesy of Tunji Sarumi Photography.]
Wind Beneath My Wings All might have seemed well in Olesha and Alie land but the couple faced their fair share of adversities together. Alie shares, "We've had a lot of ups and downs. Since being together we've lost a combined 6 close family members, dealt with both my parents being diagnosed with cancer, separated from each other for a bit while I was pursuing a soccer career overseas…And through all we managed to make it." Olesha says, "Alie had to take over his family's business [after his parents fell ill] and it was a big under taking. It has been a hard road but we find comfort in each other."  She continues, "Alie is not just my husband, he is my dearest friend." So when Alie asked for Olesha's hand in marriage before her closest loved ones, she happily obliged. Of his proposal Alie shares, " Family plays a major role in our lives and I just wanted them to be involved in our engagement."
Island Fever While Jamaica, WI is the destination of choice for many modern couples, these two had a very personal reason for getting hitched there. "My mother's family is Jamaican. I decided to have it there to honor her. I also wanted a small and intimate wedding," Olesha says. And that is exactly what the couple received. The Maryland duo hosted a total of 29 guests for their Caribbean nuptials on the memorable date of 11-11-11. But the small amount of attendees was in no way a reflection of the style and sophistication the Basma affair entailed. Wedding planners Marsha Bent in Jamaica and Onida Cruz of Opulent Creations Events (stateside) ensured the couple's wedding was one to remember complete with a picturesque beachfront ceremony, a symbolic lantern release at the reception and traditional black cake. Olesha reveals why the latter was an absolute must, "My mom says you can't have a Jamaican wedding without black cake!" Now that the deed is done, Alie expresses what he's most excited about: "I'm just looking forward to us growing together."
Olesha's tips for saving money on your wedding day!   
1. Pictures Last a Lifetime "Hire the best photography you can afford. You can lose a guest or two but your images last a lifetime."
2. Invitation Suite Savvy "Make save the dates and invitations do double duty for a destination wedding. I did this and it saved a great deal. Our guests loved them!"
3. Be a Frugal Fashionista "I bought my wedding shoes at DSW. You only see them in pictures usually."
Take a look at past Tie the Knot Tuesday features here.
***Did you or someone you know recently tie the knot? Complete this brief form and the wedding just might be featured in an upcoming Black Bridal Bliss feature!***