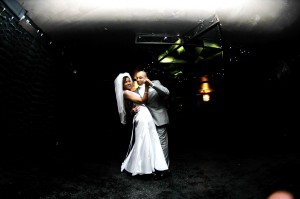 Bride: Raine C. Taylor, 31
Groom: Ian A. Diaz, 30
Occupations: Taylor, hospital coordinator; Diaz, architect
Homebase: New York City
Wedding Date: April 1, 2011
Wedding Location: ceremony: Bethany Baptist Church; reception: Deity Lounge (both in Brooklyn, NY)

Match Made in Heaven Raine hadn't been successful finding love online, but she didn't give up on digital dating. "I've been through enough to know to be very picky. I was careful," she shares. In September 2010, the discerning Raine met Ian through Match.com. The pair corresponded online and via telephone for a couple of weeks before meeting face to face. "I had been unsuccessful in establishing significant relationships online prior to meeting Raine. My initial impression of her through our phone conversations was that she seemed to have a great personality and we shared a lot of the same ideals," Ian remembers. The twosome had their first date at Sylvia's soul food restaurant in Harlem, NYC where Raine jokingly admits the food doesn't quite meet her standards for authentic down-home cooking. Despite her culinary disappointment, the date was a hit and the duo started seeing each other regularly. "I was surprised by how pretty she was to have such a down to earth personality," Ian adds.

Instant Connection Both Raine and Ian were taken aback by their immediate chemistry. "Dating Raine was fun. She had a great sense of humor; our interaction was effortless," says Ian adding that Raine was positive, attentive and thoughtful. Raine lives up to these glowing accolades. Although she has no children of her own, she volunteers as a Girl Scout troop leader and as a mentor at a local youth organization. Raine sings the praises of Ian's thoughtfulness as well, "I love his attentiveness to me. If I sneeze the wrong way, he's aware." She continues, "I even love his quirkiness. We call each other geek and dork." Ian comes clean saying, "I am usually reserved with commitment but looking back on how well we got along [in the beginning], I can understand how it happened so quickly." He and Raine agreed that they couldn't picture their lives without one another and that they wanted to get hitched. "We originally wanted to get married without rings at City Hall but I secretly bought her an engagement ring and gave it to her on her birthday in December (three months after meeting). I gave her a birthday card with a clue that led to nine more clues hidden all around the house," says Ian. After his official proposal, the couple started planning their wedding.
[cincopa AcOA1laUBC2v]
[All images by Kesha Lambert Photography.]
The Art of Compromise Raine readily admits that she and the love of her life don't always see eye to eye. "Does he get under my skin sometimes? Yes. But we know a relationship won't work without compromise," she shares. She continues, "We never go to bed angry.  We've been up until 6 or 7 in the morning [working out an issue]. We're going to talk it out and see each others point of view. We might not agree but we're gonna respect each other," says Raine. Ian sheds some light on the couple's negotiating techniques, "Everything I lack, she makes up for. We compliment each other well."
Our Special Day, Our Special Way "We wanted everything about our wedding day to be as original as possible," Ian says. And that it was. To coordinate with their theme, Fools in Love, the duo tied the knot on April 1 (April Fool's Day). The couple passed on having a large bridal party and just included one attendant each but they did have 185 guests join them to witness the joyous union. The fun-loving pair said "I Do" in the groom's quaint family church and partied into the evening at a popular neighboring lounge afterward for finger food and drinks. "My favorite part of the wedding was jumping the broom," Ian reports. The financially focused couple is clear that putting the wedding over the marriage was not an option. "We weren't trying to start our life together in debt," says Raine.

Raine's Money Saving Tips for Future Brides
Think Outside the Box "Our money is tight. We spent less than $5,000," admits Raine. By hosting their reception at a club instead of a traditional catering hall, they saved a significant amount of cash. "Deity didn't require a lot of decorations and we secured the venue for a great price because our reception was from 3P-7P on a Friday," she explains. House wine and beer was unlimited while other spirits were available to guests at the cashbar.
Fashion Find The savvy bride purchased her stylish wedding gown online for less than $200 from weddingo.net. "My sister-in-law got her wedding dress there. I sent in my measurements and didn't even need alterations," says Raine.
Friends with Benefits
"I asked friends to go into stores and purchase wedding decor items with coupons I printed online until I had enough. I didn't care about looking cheap," recalls Raine.
Take a look at past Tie the Knot Tuesday features here.
***Did you or someone you know recently tie the knot? Completethis brief form and the wedding just might be featured in an upcoming Black Bridal Bliss feature!***