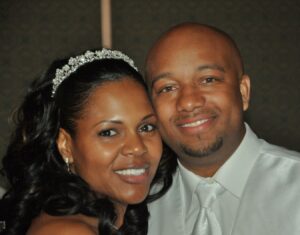 Bride: Sandra Lemon, 33
Groom: Kevin Jones, 33
Occupations: Lemon, physician's assistant; Jones, engineer project manager
Homebase: Maryland
Wedding Date: August 15, 2009
Wedding Location: Grand Lodge, Hunt Valley, Maryland

A Teenage Love:Middle school can be an awkward time for adolescents. For Baltimore natives Sandra Lemon and Kevin Jones, it was the beginning of a modern-day storybook romance. The duo met in sixth grade and enjoyed a typical preteen courtship. "He was my first little boyfriend but we started to lose touch in high school," says Sandra. Kevin reveals, "I would walk my dog in the neighborhood where she used to live. She moved away from that area years prior but I still went to see if I could catch a glimpse of her. She crossed my mind a lot and I couldn't figure out why."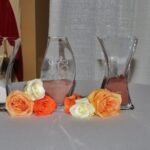 Reunited and It Feels So Good: Life took Sandra and Kevin in different directions and it seemed as though the pair had split up for good. Sandra had two sons with a former boyfriend. Kevin married and had a daughter. But both those relationships ran their course and the twosome ended up single again. Sandra randomly bumped into Kevin's sister who suggested she give her bro a call and the rest is Tie the Knot Tuesday history. "We reunited in March of 2006 and it was like we never missed a beat," remembers Sandra. "I can be myself around him. He even laughs at my corny jokes," she adds with a chuckle. Kevin sheds his light on their reunion, "At 13, we couldn't appreciate what we would eventually become. But at 33 we have lived and we now are able to appreciate each other."

Amazing Race: Once Kevin decided to ask Sandra for her hand in marriage, he created a scavenger hunt of sorts, taking Sandra to places near their home that were significant to the relationship before finally popping the big question. "She is absolutely addicted to The Amazing Race so the concept wasn't hard," says Kevin. "It is my favorite show. I tried out several times but never made it," says Sandra who was thrilled and completely surprised by the elaborate proposal. Kevin explains, "I had to pull some strings but she was worth every second. Since she hadn't been on the show, I thought I could fulfill her dreams and bring the show to her." The duo was engaged on February 28, 2008.

[cincopa 10614989]
[All photography, excluding honeymoon image, by Kevin Brown.]
For Better or Worse: Like every couple, Sandra and Kevin have endured their share of hurdles. Kevin's job often requires him to travel for long stretches of time which can put a strain on the family. "Sandra doesn't stop me from furthering my career. She knows that I love what I do and she would never prevent me from being happy; yet another reason I love her," he says. Kevin also has an autistic daughter. "Having a special needs child puts a strain on any couple. The other kids can do things she can't," whispers Sandra. Kevin and Sandra have learned to lean on each other to navigate these and other challenges of life.
Step in the Name of Love: Both Sandra and Kevin are active members of historically Black Greek Letter Organizations. They followed tradition and incorporated elements of their organizations into their reception. "Kevin and a couple of his frat brothers put on a step show," recalls Sandra with a smile. "I put the march together to show Sandra that she not only married me but my frat brothers as well. The way she has encouraged me to be more active [in my fraternity] has been very easy to transition into this marriage. She loves the bruhs like I do," proclaims Kevin. Another memorable part of the reception was Sandra and Kevin's first dance to Once in a Lifetime by Beyonce. The couple enlisted the assistance of a former Miss Maryland to help them choreograph the special dance.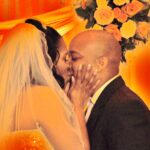 Sandra's Money-Saving Tips For Future Brides:
Make It Count: Industry experts far and wide agree that the more people you have to feed during a wedding reception will play a significant role in your bottom line. Sandra strongly advises future brides to pay close attention to who makes the final cut on the invite list. "When choosing your guests, choose wisely," she warns adding, "Think about what your finances will be like after the wedding."
One-Stop Shop: Sandra and Kevin like many couples chose to have their wedding ceremony and reception in the same venue. This can be an excellent cash-saver as there is no need to transport a bridal party between the two events. Plus the convenience of not having to worry about traffic, weather, parking, etc. gives the bride and groom one less thing to stress about.
Be sure to check out previous Tie the Knot Tuesday couples.