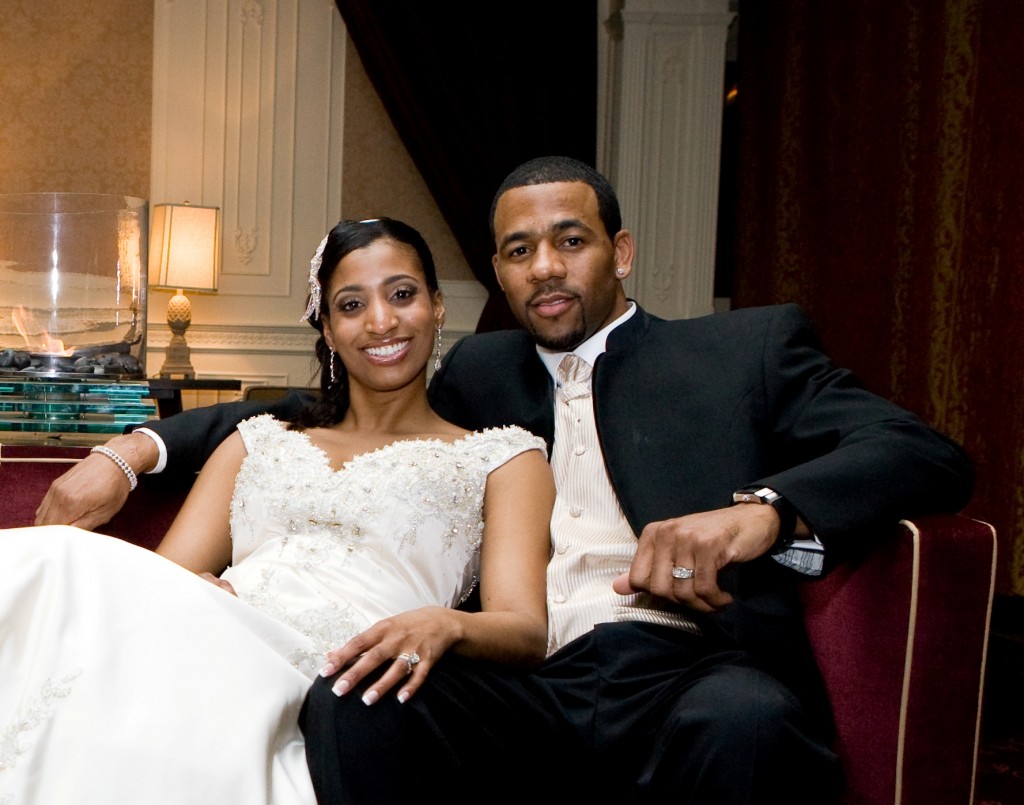 After five years (whew!) of featuring awesome couples and their nuptials here on Triple B we've gotten quite a bit of content in our archives. Today we revisit an interview with our first Tie the Knot Tuesday couple, Cleo and Lyncoln Dujon. The Maryland couple first shared their insider videographer tips and tricks here. However, their insight — the couple comes clean on budgets and not initially agreeing on the need for a videographer — is still relevant so enjoy!
Black Bliss Bliss: Why was it important for you to hire a videographer for your wedding day?
Lyncoln: Since we were having a large amount of people at our wedding (260+), I didn't think we would be able to capture everything with still photos. The video allows us to share a funny or emotional moment with our guests that we may have missed because we were across the room. In addition, it is easier to feel the true moment with actual voices or the song that was playing at a certain time.
BBB: So Cleo, you were hesitant about hiring a videographer at first?
Cleo: Yes but I am so glad Lync shoved the idea down my throat. [laughs] We enjoy watching the video and have watched it more than once since the wedding. Rob (of Villanovisions) did a great job capturing the beauty of the day.
BBB: Why do you think you needed convincing? Was it because of money?
Cleo: Yes, it was because of money. At the time we were dishing out a lot of cash for transportation, flowers, etc. all at once. But if a bride is on the fence about a videographer [because of finances] I would recommend having one over buying items such as designer shoes or favors. DIY will save a lot of money if you have the time and patience.
BBB: How did you come up with the music for your wedding videos?
Lyncoln: We collectively chose the music. You want to choose upbeat music along with a few slower tempo songs (not slow meaning it will put someone to sleep) that will bring people to tears for the emotional parts.  Also, make sure the videographer knows these song choices before the wedding day so he/she gets a vibe of the couple and knows the mood that needs to be set while trying to capture moments at the wedding and reception which will later will be edited to these song choices.
BBB: Were there specific people and events that you requested the videographer record?
Lyncoln: The videographer should definitely capture the bridal party and immediate family. Depending on videographer and type of video he/she will be doing for couple, you should allow room for their professional experience to be utilized. This should include capturing the funny and emotional moments, some dancing and allowing people to share words they may not get to express to bride and groom because of everything going on that day. Our parents have watched the video on numerous occasions and it usually brings them to tears of joy each time.
Learn more about great wedding videographers here.

Take a look at past Tie the Knot Tuesday features here.
***Did you or someone you know recently tie the knot? Complete this brief form and the wedding just might be featured in an upcoming Black Bridal Bliss feature!***