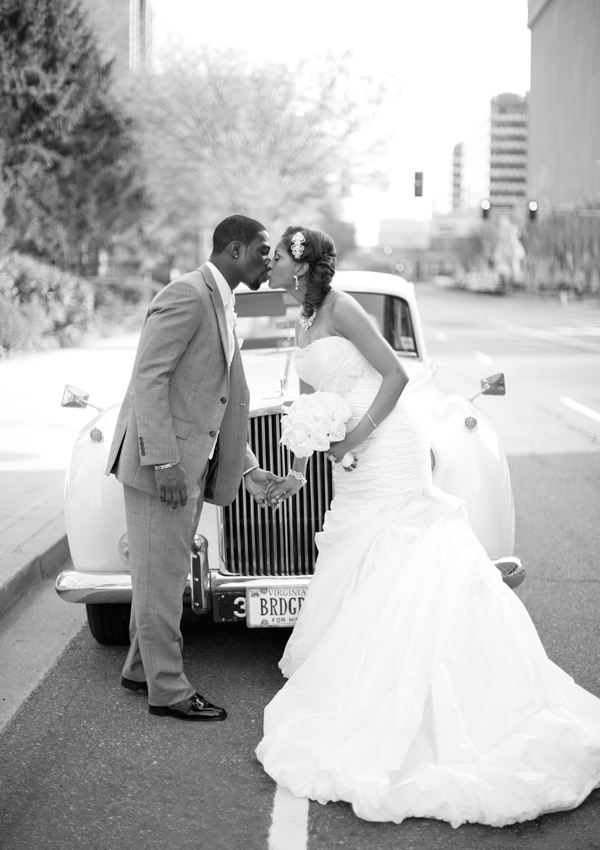 Couple: VaShonda & Kyle
Wedding Date: March 17, 2012
Wedding Location: (ceremony) St. Stephen Baptist Church, Temple Hills, MD; (reception) Marriott Hotel, Crystal City, VA
Children: Kyle Junior (aka KJ); two months old
Today's Tie the Knot Tuesday meets Marriage Matters features the nuptials of NFL cornerback Kyle Arrington of the New England Patriots and his lovely wife VaShonda (who he affectionately simply calls "V")!
VASHONDA SAYS
High School Sweethearts…Not! I remember Kyle from high school but we only spoke in passing. It wasn't until after we graduated from college that we became friends and would hang out in groups. We were both in relationships with other people. I never looked at him that way and I doubt he looked at me that way. This went on for a couple of years. At some point neither of us were in a relationship and around 2010 we started dating.
Gentle Giant Kyle was a true gentleman when we dated — and he still is. I've always demanded a certain level of treatment from guys but Kyle took it to a higher level. You have the groupies [in the NFL]…They exist. But because of the respect Kyle has for me, I've never had to question anything. No one has stepped out of line. I truly am blessed.

Father Knows Best My family is a big deal. I'm definitely a Daddy's Girl. My mom and I also have a strong relationship. It was important to make sure my parents approved of [my union with Kyle]. I knew they would because my parents love him. However, there would have been major issues if he didn't ask for my dad's permission. Before Kyle and I got to the point where he proposed, I asked my dad what he thought of Kyle. My dad said Kyle was a stand-up guy and very respectful.

VaShonda's favorite wedding reception memory: There was non-stop dancing for the entire reception! Everyone danced all night. It was a true party. At one point, both of our parents along with Kyle and I were dancing on the floor at the same time.
*BONUS* Confessions of a Footballer's Wife: Some people are attracted to this lifestyle — dating a basketball or football player. That was what I tried to stay away from; I had plenty of drive and determination on my own. When Kyle and I first started dating, I was a security data officer and often worked 12 hour shifts. I only stopped working after experiencing health complications while I was pregnant with KJ. It was a humbling adjustment; I've always been extremely independent.
[cincopa AQMAAJr3lrwN]
[All images by Laura Luis.]
KYLE SAYS
Too Cool for School You can't beat fate. She wasn't ready for me in high school. She was a skinny quiet bookworm back then. I was too cool for school in high school. We ended up finding each other some how.
Homie, Lover & Friend We are both so silly. We don't mind kissing and grabbing on each other sometimes. Always appropriate, though. Never inappropriate. I can't get enough of her.

On Bended Knee I had V's [custom made] ring over a month before I proposed.

Kyle's favorite wedding ceremony memory: The flower girl was the funniest part of our wedding day. She was full of personality. After her walk down the aisle, she put the basket on her head…She was dancing…You know she was just being a kid. A true kid.
VaShonda's Budget Tips For Future Brides
Liquor Costs! As far as wedding planning goes, the reception is where all of the money is spent. We did have an open bar and that was expensive. Kyle and I don't drink. I occasionally have wine but he doesn't drink at all. Couples planning should understand that liquor can really eat into their budget.
Flower Power We used the same flowers from the ceremony to decorate the tables at our reception.

***Did you or someone you know recently tie the knot? Complete this brief form and the wedding just might be featured in an upcoming Black Bridal Bliss feature!***
Triple B will follow-up with an exclusive feature from this down-to-earth couple on parenthood, married life and the reality of diaper duty. Stay tuned!
This story was co-reported by Cousin Mars.