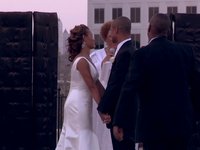 I recently discovered a fan-ta-bu-lous wedding videographer resource while checking out Bride & Soul's hot new site. If they aren't already, put Three Ring Media on your radar! This husband-wife duo is based in Atlanta but also work their magic for weddings in DC and NYC (and might travel to other locations as well for the right $). Their videos are shot using Blu-Ray technology so everything looks crisp and the colors are vibrant. But what really impressed me was the personalized storytelling approach they bring to their craft. Think Tie the Knot Tuesdays on film. Check out these two (Janelle & Travis made me cry!): 
Three Ring Media Presents: Rasheeda & Cory
Three Ring Media Presents: Janelle & Travis
Three Ring Media's services begin at $1,950. They offer unique packages for various budgets (the short story, the novel and the epic). Call them at 404.963.8757 or shoot them an email at [email protected] if you're interested in learning more. As always, let them know that BlackBridalBliss.com sent ya!
So if you're planning your nuptials and are still on the fence about hiring a videographer for your big day, I highly encourage you to revisit this post from Tie the Knot Tuesday alums Cleo and Lyncoln. And remember what Dee said her one regret was about her heartfelt ceremony? Even if Three Ring doesn't fit into your style or budget, be sure you enlist the services of a videographer in some capacity. (You will thank Triple B later.)
Which scene in the above videos was most touching to you and why?
[Image courtesy of ThreeRingWeddings.com.]