Please enjoy this post from me today — the final post from BlackBridalBliss.com for the year. Nadine will return next Thursday with her Road to Mrs. blog.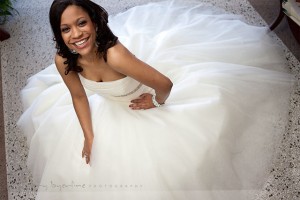 "How can you give advice on marriage or weddings if you've never been married?" she asked with a tinge of attitude while she flashed her colossal platinum diamond ring and matching wedding band. She was an on-air reporter for CNN and we were at a networking reception during the National Association of Black Journalists Annual Conference in San Diego last summer. Triple B was just four months young at the time and I was eager to spread the word about my baby. But honestly, her question stung. Okay, it stung a lot.
Although I had mentally tried to prepare myself for this question prior to her asking, I was taken aback. Sure I was very clear about my vision and motives behind BlackBridalBliss.com in my first post but I couldn't help but wonder how many people thought the same way as this CNN anchor. I told her that while working as an editor for the world's premiere magazine for African American women, I recognized first-hand an obvious void in the bridal market for Black brides. I explained to her that as a resource for Black women preparing to get married, Triple B covered everything from engagement pictures to honeymoons. I informed her that I had relationships with photographers, fashion designers, hairstylists, makeup artists and more who held expertise that could help ease the anxiety that plagues a bride-to-be. I even shared that I had no intention of personally doling out marriage advice but did plan to cover it regularly on the site through Marriage Matters where folks who had said "I do" shared their words of wisdom. She simply looked me up and down and replied rather nonchalantly, "Oh."
As I reflect on 2010, I am happy to report that one of the year's biggest accomplishments for me was launching Triple B. When I was laid off from my "good job" in November 2009, one of the responsibilities I missed most was the weekly online coverage I maintained of Black women getting hitched. And now, Tie the Knot Tuesdays fills that space and so much more. I have lost count of the friends, family members and complete strangers that are single, married, dating, divorced, engaged, happily living with their partner and even widowed who told me they look forward to viewing the TTKT features because it makes them smile. I think folks find it refreshing to see positive, loving Black marriages (especially with the under 45 set) because mainstream media would lead one to believe that they simply don't exist. And who said Black folks don't travel internationally? My TTKT couples have honeymooned across the globe in places like Cape Town, Dubai and Tokyo.
Even though 2010 has been a rocky one for me personally in the love department, I couldn't be more excited about the future of Triple B. I plan to offer more giveaways, more exclusive discounts and interviews, more videos, aww shucks…y'all will just have to wait and see! If you haven't already, come join the fun on Facebook and Twitter. But know this Triple B fam, the best is truly yet to come.
Enjoy ringing in the New Year safely with those you love and a huge THANK YOU for supporting BlackBridalBliss.com in 2010. See ya in 2011!
And FYI…I quickly got over that interaction with the CNN anchor. I learned long ago that what other folks think about me is really none of my business. If anything, she made me step my game up.
[Image courtesy of gregorybyerline.com]