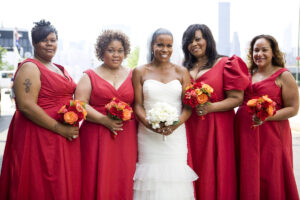 I recently caught up with style expert Nicole Brewer to get the 411 on bridal fashion for women of all sizes. With nearly 15 years of experience in the fashion industry, Brewer is currently a Style Council Member for David's Bridal. The spunky newlywed (she just jumped the broom herself last summer) chatted with me about proper foundations, bridesmaid dresses and wardrobe tricks for real brides with real curves.
So Nicole, what are your favorite bridal trends for the season?
Floral motifs: The current designs are sophisticated, strategically placed and fashion forward.
Color: Adding punches of color to gowns and incorporating them into the bridal party's look or reception decor.
Shorter length dresses: They're fun and great for young, casual weddings or even a second/third wedding.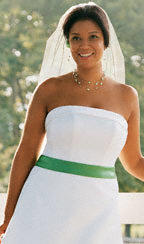 What style tips do you have for:
Busty brides: The most important thing – and this goes for women of any size – is making sure you have the right foundation. What you wear underneath is more important than the gown. Open up your neckline. That can be through a strapless, v-neck or sweetheart style. When you cover your breasts too much you're adding bulk and it looks like you're hiding something.
Hippy brides: Look for silhouettes that are cut on the bias and gowns that are fit and flare (this could be an A-line, drop waist, ballroom style). As long as you're cinched at the middle, you should be fine. You want to flatter your hips, thighs and butt so choose fabrics that are going to drape over them not tug.
Thick midsection brides: Again, the proper foundation garments are key. This could be a long-line bra, a bustier, shapewear, a control-top panty – whatever is going to work for you. David's Bridal carries a wide variety of great shapewear. You don't have to wear your mother's girdle anymore. Look for something that creates structure and defines your waist.
Brides who are self-conscious about their arms: Do not think that you have to look for a dress with sleeves! Don't put yourself in the category of "I can't wear strapless." Find the dress you love first and then deal with coverups. You can do anything from a shrug, to a capelet in fresh fabrications like stretch lace. If it's winter, you can do a fur or faux fur throw. There are so many great options of coverups, now.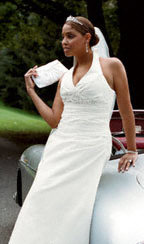 Petite brides: David's Bridal carries petite and petite plus gowns. As a petite bride the most important thing you have to worry about (after foundations) is proportions. You want to look for details (like vertical beading) that are going to elongate your waistline and make you appear taller. An empire waist dress will do this. And be mindful of train lengths. You don't want to get overwhelmed in too much dress because it's only going to make you appear shorter.
What advice can you share with the bride who has a bridal party that ranges significantly in size? (i.e. – my maid of honor is a size 22 and my matron of honor is a size 4.)
The newest trend is to pick a colorway and then let your bridesmaids choose their own dress. It's so modern and so 2010 to have everyone in your bridal party choose their own silhouette. They get a chance to be themselves. The thing I love about David's Bridal is they carry size 0 to size 26. But remember as the bride you are the lead singer and everyone else is backup so ultimately you have the final say.
For more savvy advice from Nicole on plus-size bridal fashion, check out her blog here.
[All images courtesy of David's Bridal.]