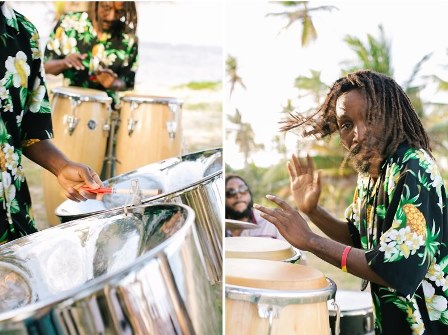 Once you've decided to say "I Do" on an island like St. Lucia, it would be easy to just sit back and have the same type of affair you would in your hometown, right? But the truth is, part of the reason you and your boo thang decided on destination nuptials in the first place is because you wanted both you and your guests to experience something different than what you can offer in your own neck of the woods. So while in town for the LoveElevated Symposium, Triple B got the inside scoop on five easy ways to insert some local flavor into your St. Lucian wedding! (Your guests will thank you.)
Steel Pan Drummers – Booking a few or even one will help evoke a bit of genuine island flare into your big day. Perhaps a during the cocktail hour or rehearsal dinner — it will go a long way in ambiance.
Madras Cloth – This bright, vibrant fabric dates back to slavery and can be incorporated into anything from your invitations to your favors. I actually wished I had gotten someone to give me a better understanding of the significance of Madras fabric while I was in St. Lucia but time did not permit. I assure you that your guests (regardless of sex, race or age) will appreciate learning something new and interesting as a result of your wedding. Give yourself a crash course here. 
Teach Your Guests Some Patois – While English is the primary language spoken in St. Lucia, it is very common to hear locals conversing in Patois or Creole. How cool would it be to give your guests a cheat sheet translation of words and phrases they might actually use during your wedding weekend like, "Hello!" and "May I have more rum, please?" (I attempted to learn a few simple words from one of our drivers during my stay and it was an epic fail.)
Give Black Cake as Favors – This is an extremely popular Caribbean tradition particularly for Christmas and weddings. I personally don't like the cake but it is always impressive when people of the African Diaspora are able to maintain any part of their culture since so much of it has been taken from us. Adding a small item like bakes or doubles to your menu could also do the trick.
Plan for at Least One Group Activity Off the Resort – Whether it is limin' (Caribbean slang for chillin') in Rodney Bay at one of the popular cafes or lounges to attending the Friday Night Fish Fry/Jump Up in Anse la Raye, it would be a shame for you and your guests to visit a culturally rich island like St. Lucia and only mingle with other tourists.
BONUS: If you're planning to give your guests a welcome bag or basket (a nice touch if they've traveled long distances to celebrate your new union), consider including a bottle of Piton beer (a local fave), hot pepper sauce (I saw this everywhere while in St. Lucia and there are dozens of varieties) and/or banana ketchup.
What are your thoughts on the above list? Have you ever experienced any of these things in St. Lucia or elsewhere?
What is your favorite destination wedding memory?
[Top image courtesy of: cbayresort.com.]