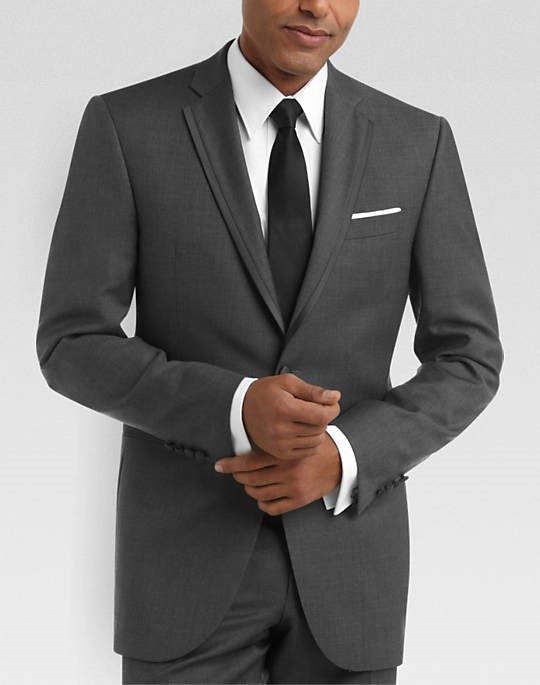 Hey, Triple B! Your favorite cousin has something new up his sleeve. In addition to my Final Friday musings on serious topics like marriage, brotherhood and parenting, I will post here each and every Thursday about…Fashion. The truth is I'm a simple khakis and sweater kinda guy when it comes to clothes — I've never been nor do I aspire to be a "fashion dude." But Boss Lady Bridgette felt like BlackBridalBliss.com was slacking in men's wardrobe content. Eventually I had to agree she had a valid point: Most fellas want to be fly for their wedding day, too. Still, I told her I would only do it if I could make it fun and stay true to who I am. So I partnered up with my lil' cuz Janee D. Weather aka "Venus" (Triple B's hardworking editorial assistant) and soon the Mars vs. Venus concept was born. We're kicking off this exciting feature with a look for the groom and/or his groomsmen in the above pic.
Mars thinks – This outfit can be worn on the BIG DAY. In fact, this is the exact tuxedo I planned to wear the day I walked the plank. Personally I prefer the neck tie, as opposed to a bow, with these Black by Vera Wang threads. A nicely fitted tuxedo will always work for a chic affair. However, I believe grey provides elegance without conforming to the masses – those that feel tuxedos should only be purchased in black or white. Almost any color and pattern pocket square matches well with this grey and this allows you to coordinate with the wedding colors.
Venus thinks – I'm agreeing with Cousin Mars; certainly "Big Day" attire. I'd actually prefer a grey tuxedo rather than the typical black or white one. Grey goes well with a host of hues like pink or purple maybe even a brown, tan, or burnt orange. As much as I love a great bow tie, I think a necktie will do! This tuxedo is certainly one of my favorites from the Vera Wang Black Collection.
Remember, each Thursday Mars vs. Venus will critique a new look. Next week's look will be that of a popular comedic actress.
I don't know who deserves credit for the following quote, but I initially discovered these words on Triple B's founder Bridgette's first blog – "Trendy is short, Fashion is long, Style is forever." Please share your thoughts of this week's outfit in the comment section. Also, let Venus and I know what you would add or subtract if you or your significant other rocked this Vera Wang tux.