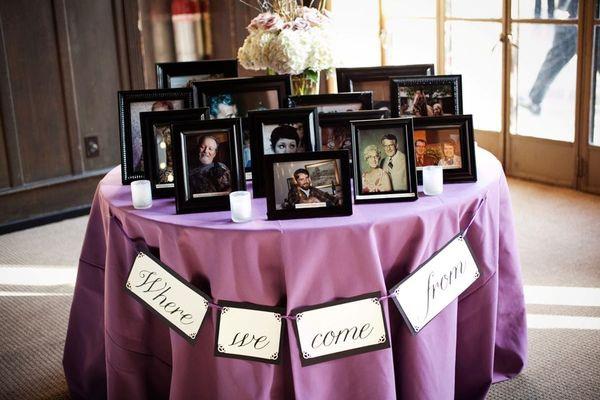 Between finalizing Save the Dates that need to mailed yesterday, corresponding with a growing number of wedding vendors, completing a freelance story (It's coming P!), searching for a Triple B social media intern, organizing an exciting Triple B photo shoot and trying to maintain some semblance of a personal life — I still manage to find awesome wedding ideas in the form of images on the Web to share on Facebook, Twitter and Pinterest. However, the above pic moved me so much that I had to make it my Pick of the Week, too!
The above image (captured by Kim Fox Photography) represents a creative way to include loved ones who have passed on into your wedding without bringing the spirit of the day down. It also allows guests to do just what the sign suggests, learn where you and your beloved "come from". The mix of pictures from the decades (I love looking at old pictures of family!), black and white/color, sizes and mixing pictures of both your relatives will make for endless conversation starters during your reception.
Thinking of doing something like this for your big day? Go for it! The addition of flowers and candles to this type table set-up is a plus but not a necessity to pull it off successfully. Flower petals can easily work instead and are typically more cost effective than long stem floral options. Don't feel pressured to get the exact same frame for each photograph. In fact, it is more visually interesting if your frames vary in style and design. I would just try to keep the metals (gold, pewter or silver) and the finishes (matte or shiny) consistent. A quick trip to Michael's, Target or your local craft store paired with a little sweat equity should be all you need to create the "Where We Come From" sign.
FULL DISCLOSURE: I will probably incorporate something like this into my own wedding day. My fiance and I understand that we are able to live the lives we do because of the sacrifices made by a lot of people before us. We'd like to honor their legacy through our nuptials. We'll surely be leaning on the strength of those same people throughout our marriage. This seems like a pretty cool way to do just that before we get to The Wobble, of course.
What do you think of this idea? Would you try something like this for your big day?