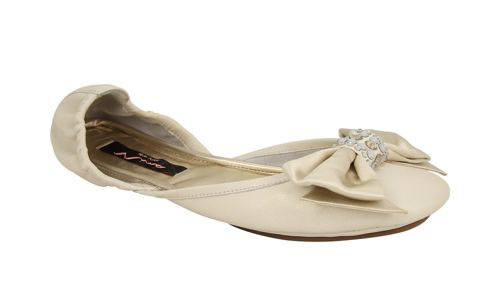 Welcome to my first official pick of the week! I discovered the above shoe during a recent visit to the Nina showroom in NYC for their fall press preview. I gushed over the plethora of (affordable) bridal accessories during my walk-through — Nina offers everything in the fashion category for the bride but the dress — but these particular shoes especially caught my eye.
They're perfect for that bride who has been standing in 5-inch heels for 6 hours and is ready to cut loose and do The Wobble on the reception dancefloor. Unlike many other flats that fill this need, the Norway style (in the Mother of Pearl hue) is actually formal so the bride can still look like a bride even after she's stepped out of her stilettos. The crystal embellished bow at the toe box and pearlized leather assure this. But this style also works for an older flower girl or a junior bridesmaid. In addition, these babies fold up into a cute little satin bag so they can be thrown in your clutch for future nights out with your girls or the hubby.
Nice!
The Nina Norway ballet flats retail for $99 and are available here.