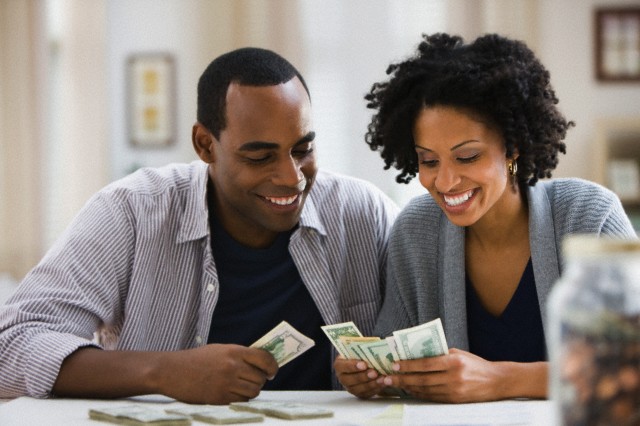 Searching for new ways to cut costs for your wedding day? Of course you are! Hopefully you already know that having a wedding on a weeknight (or any day other than Saturday) and during the fall or winter could be a significant cost-cutter. But there are many other methods to making your wedding dollars stretch. Check out these practical tips that are sure to help you get the most bang for your bridal buck in the tune of more than $5,000!
Nix the Bridal Party – Newlywed Gabrielle Union was on to something by opting not to have bridesmaids for her wedding. Between the costs of bouquets (one can set you back $100+ dollars) and thank-you gifts for your wedding party, a couple can spend a thousand dollars when including bridesmaids, flowers girls, groomsmen, etc. in their nuptials. Don't fret about missing sentimental moments like this — your true blue amigos will still be with you every step of the way whether they're officially labeled a "bridesmaid" or not. Sidebar: Your friends might actually be relieved.

Skip the Engagement Session – Yes, they're fun and give you and your honey a chance to dress up during an exciting photo shoot. But chances are you and your boo already have dozens of cute pics together for your wedding website. Bypassing an e-session could easily save you a thousand dollars (once you factor hair, make-up and possible new clothing purchases).

Just serve cocktails during cocktail hour – That's right; ditch the predictable serving of a massive amount of appetizers for the sixty minutes between your ceremony and reception. And only offer a specialty cocktail or two instead of doing a full open bar. Your guests will live; trust me. They might not even notice. Depending on your venue and guest list size, this small tweak could save you more than $1,500!

Bypass the Bentley – …Or the Rolls Royce. Or the massive stretch limos. If your ceremony and reception take place in the same place (which is another cost-saver), the need for fancy transportation lessens anyway. A simple yet sleek black SUV or luxury car rental will do the trick just the same and cause a lot less damage to your bank account — more than a thousand dollars less.
Programs, favors and save the dates? Lose 'em all. Yes, I'm serious. I didn't have programs for my Charlotte nuptials and (gasp!) no one really noticed. If they did their sentiments were kept from me. Favors can be a nice touch, especially if they're practical, but many guests won't even remember to take them home as former Tie the Knot Tuesday bride Cleo warns. Consider a digital save the date instead of the traditional snail mail variety. Making do without programs, save the dates and favors could save you well over $1,000.
Shop in Your Own Closets First – Remember that everything you wear or use on big day need not be bridal. From reception decor to jewelry — utilize what you already own, borrow or shop thrift/discount resources to help create a memorable wedding day within your means and save you thousands of dollars.
*BONUS* – Lemme Upgrade Ya! If going on a honeymoon, score as many freebies and upgrades as possible. Tell everyone you work with to book your romantic getaway about the nature of your trip and I promise you they'll throw in something special and/or free of charge. From an upgrade of a standard room to a suite to free desserts or complimentary champagne, there are countless perks to be enjoyed by remembering this fun fact.
Get tips on how to save money on your wedding day catering and ideas on how to expand your floral bridal budget!