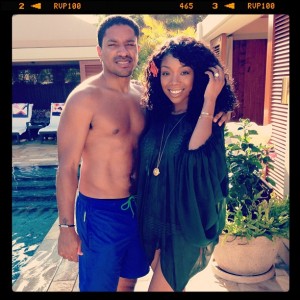 There's been exciting activity in the way of marriage and engagement for a couple of your favorite singers and athletes this month. Read all about them! (For some of you this is "old" news as I've already shared the below updates on Facebook and Twitter… But, I thought it would be remiss not to post here on the blog as well.) First up? Grammy-winning singer Brandy got engaged over the holidays to her beau, music executive Ryan Press. The singer posted the above shot via Instagram of the couple poolside in Hawaii. Earlier this year, Brandy told PEOPLE magazine that she would wed Ryan with a "bubblegum" ring but it appears as though Ryan just decided to take her word for it and gave her a diamond instead. Brandy also told PEOPLE that her 10 year-old daughter Sy'rai "loves Ryan". Good stuff all around. Triple B wishes Brandy sweet bridal bliss in the months ahead.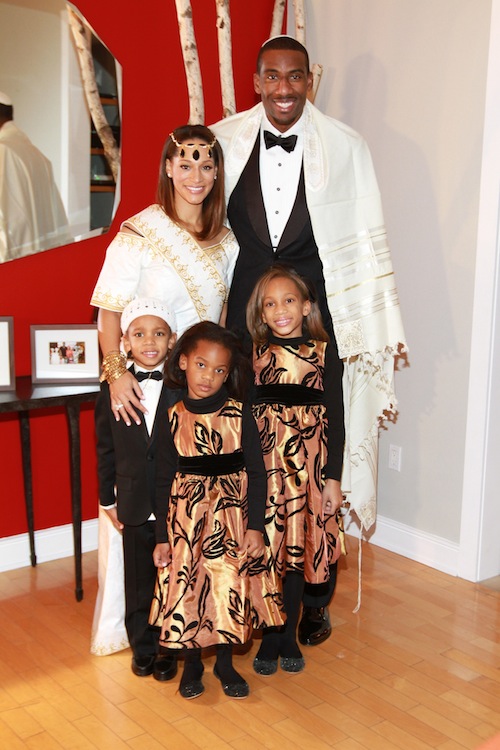 And in the world of sports, NBA superstar Amar'e Stoudemire took the marriage plunge earlier this month. He and his longtime girlfriend Alexis officially became husband and wife on December 12 (12.12.12) in an intimate ceremony at their home. The Knicks forward/center popped the question to his beloved last summer in Paris. The nuptials were witnessed by the couple's three children Amar'e Jr., Ar'e and Assata (shown above) and seven family members. Alexis nixed the traditional wedding gown and opted for a custom designed dress while their kids also wore custom attire. Meanwhile, Amar'e wore a Calvin Klein tux under his draped attire. You guys know how much I crush on at-home weddings!
For those of you still thirsty for the glitz and glam, don't fret. The newlyweds are reportedly planning to have an all-out bash for extended family and friends in 2013.
A sincere congratulations from Triple B to both couples!