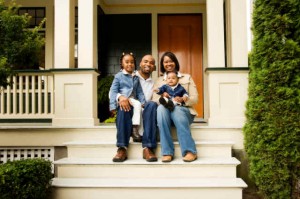 How many times have you heard someone rant about a couple's nuptials with these statements: "They spent $30,000 on a wedding and they don't even have a house? That doesn't make any sense!" More times than you can count I'm sure. As I mentioned last week, everyone is looking for creative ways to make a dollar stretch. So when I received an email to my inbox this week about HatchMyHouse.com, I immediately thought to myself, 'This is genius!'. The site allows engaged couples to plan their dream wedding and stack cash for their dream home simultaneously.
As we all know, when folks get engaged they typically go through the traditional song and dance of creating a gift registry at stores like Crate & Barrel, Target or Williams-Sonoma. When registries first became popular, most people were still getting hitched in their early-mid 20s and probably hadn't lived on their own yet. However more people are deciding to tie the knot later in life (and this goes for couples of all races). Chances are, by the time you're 36 you already have an arsenal of towels, pots and pans and kitchen appliances. And really in 2010, most people don't wait until they host a fancy dinner party to use the "good china" (be honest!). We've become a much more laidback society. As times have changed, wedding registries have also evolved and rightfully so. This is why Hatch My House (HMH) is so freakin' neat.
Essentially, HMH is a user-friendly wedding and gift registry where anyone can sign up, design a house and start saving towards a down payment or home improvements in a fun and interactive way. Your loved ones visit your house page and purchase a part of your "dream" house such as a window for $75 or a door for $125. How cool is that?! And for those reading this who are thinking, well my beau and I already own property (which is often the case for couples in their mid-30s) remember you can use this registry for a new addition to your existing home(s) or even for a vacation or second house. Plus it is much less awkward than asking your guests for cash and gives newlyweds accountability unlike a personal check that will likely get nickled and dimed away.
This latest installment in the land of wedding registries seems to be the most useful (I was already aware of honeymoon registries.) since we all know the importance of owning real estate. Sure that $500 chrome blender looks sweet in the catalog but will it appreciate in value the way a condo can? Be sure to read these testimonials (of course HMH only used the favorable ones but it's still enlightening). There is a $25 registration fee which is kinda lame but I guess HMH has to make a profit somehow. Oh HMH isn't solely for couples either. This registry can be used by single folks, birthdays, graduations or just because.
I really want your thoughts on this one, Triple B fam. Do you agree that Hatch My House is a cool idea or do you think it's impersonal or tacky even? Please sound off with your comments.
*CA, thank you SO MUCH for the lead!