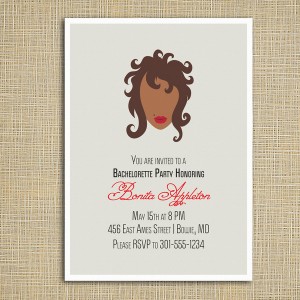 Most would agree the right invitation sets the mood for any memorable affair. And with the popularity of e-vites and the like, I'm increasingly impressed by unique invitations sent (gasp!) snail mail. This is why when I learned of a new, fun addition to the stationery world — Sweet Potato Paper — I couldn't wait to share with you guys!
Created by the talented Allyson Yuille, Sweet Potato Paper was born out of the newlywed's own search for stylish invitations to kick off her 2008 Harlem-renaissance themed wedding. Her burning desire to fill this void of creative yet clean and contemporary stationery for women of color helped to birth Sweet Potato Paper. Launching earlier this month, the line is full of flirty and memorable merchandise for the bride-to-be, mother-to-be, birthday gal and more. Each style contains a distinct, non-cookie-cutter design and fun text to match. I adore the bachelorette party invitation above! And unlike most of her competitors, most designs are available with illustrations of women in various hues and hairstyles because Yuille understands that Black women exist in a range of equally beautiful complexions and hair textures. She also incorporates nature into her creations like the peacock themed wedding invite below: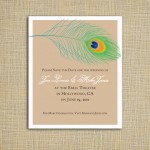 The price points for Sweet Potato Paper are fairly reasonable — especially for the events leading up to a wedding. And Yuille is planning to expand her designs in the coming months. An added bonus are the site's unintimidating tips on stationery etiquette which is certainly a Godsend for most brides-to-be.
Need another reason to test-drive Sweet Potato Paper? BlackBridalBliss.com folks get 15% off any purchase from the site until March 18th! Just enter the code: BBB2011 at checkout to redeem your savings.
Happy shopping and saving!
(Check out Sweet Potato Paper now and tell me which is your favorite in the comment section below.)