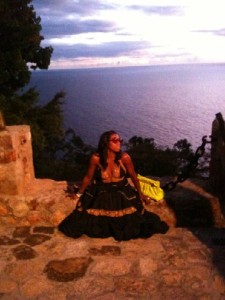 I know some of you just said to yourself, 'The Black Atlas isn't new!' And you would be correct since the site launched in the fall of 2009. But I don't think many people realize how valuable of a tool it can be when planning a destination wedding and/or a honeymoon. Read why:
A spin-off of American Airlines, Black Atlas offers reviews on popular cities across the globe and gives tips on where to eat, drink, dance and sight-see in some of the world's notable cities from a Black perspective. Most of the reviews are from "real people" so don't expect the same lame scripted info from seasoned travel writers that you would receive in your average travel magazine. The videos are excellent! Searching for a hair salon to tighten up your weave or locks in Miami? Curious about African cultural influences in St. Lucia? The Black Atlas offers information on all of this and more.
With all of the items piling up on your wedding to-do list, it would be wise to take advantage of The Black Atlas to help narrow down exactly what you want to do and see on your honeymoon. (Well, besides the obvious.) I'm sure exploring a new locale with your new spouse while still basking in the glow of being newlyweds is nothing short of blissful. Admittedly, some of my most memorable travel experiences include situations that even the best guide book or Web site couldn't have prepared me for like debating hip-hop music with local guys in Guinea, West Africa or requesting "Italian" salad dressing in Rome before a very disgusted waiter plopped oil and vinegar in front of me ("Italian" dressing is an American label). In addition, much of the information you gather from this site — practical tips regarding visas, transfers and the like— might help you save money in the long run.
I must admit I'm disappointed that the site doesn't have more information on international destinations by now. For example a dear friend of mine is contemplating a trip to Tokyo (the same city Tie the Knot Tuesday alums Camille and Uchenna honeymooned) but I couldn't send him to the site as a resource because Tokyo isn't covered…yet. I guess as American Airlines expands, so will The Black Atlas.
Would you consult The Black Atlas to help plan your destination wedding or honeymoon? Do you already use them as a resource in any of your wedding planning? Not even planning a wedding but think the site is a great idea? Let me know and have a great weekend!
[Above image courtesy of theblackatlas.com.]