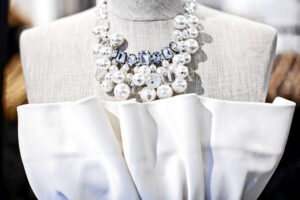 Remember this post about how your fave bridge retailers are expanding into the world of bridal? Well, now thanks to White HouseIBlack Market you can officially add to that list!
Ever since First Lady Michelle Obama wore a floral sundress from the suburban mall staple, folks have been crushing on White HouseIBlack Market. Rightfully so since they offer comfortable classics at affordable price points and is known for styles ideal for the average working woman. The retailer first entered the bridal arena back in the spring but had very limited offerings. I guess business was pretty good however because now they have a full-fledged operation for the budding bride.
They offer a small collection of wedding gowns (I'm really feeling the "Katharine" and it is only $348!), plus bridesmaids dresses and accessories. They even have wedding specialists that can assist you over the phone with everything from fit concerns to choosing the right shoes for your bridal party. (And the latter is free!)
Have a looksy at the site and let me know what you think in the comments.