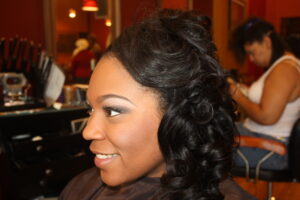 Dress? Check. Accessories? Check. Hair? Help!
Like most brides, I'm after one thing and one thing only: sheer perfection! From the rings on the napkins to the polish on my nails, I'm praying that on my wedding day every detail will be just right. Now, the reality is having everything go my way is probably a fantasy, but for me, there are a few details that must be flawless. (No exceptions.) My list is short, and having the right hairstyle tops it. My journey began with the gown. Once I found The Dress, it was time to seek out a 'do worthy of it. I fell in love with a gorgeous ivory strapless ball gown from Amsale with a sweetheart neckline, crystal beading at the waist, and a giant origami-inspired bow around back. It's a modern gown with vintage accents and demands a fierce style that will compliment and not overwhelm it. After seeing photos of the dress, my friends begin campaigning for me to pair it with a classic updo. Although most brides go this route, it's an argument I wasn't easily sold on. I've already tried just about every style imaginable — I've worn wigs, both synthetic and human, in every color and style, rocked twists and braids, and even cut my hair into a super-short asymmetrical bob.
You name it and I've been there, rocked that. Some were hits, and lots were misses. Most of the time, it wasn't actually my hair.  I've always liked long curly locks best. Combine that with the fact that every memory I have of wearing a typical formal updo (like my prom, cotillion, and graduation) makes me cringe. Sometimes the look just didn't fit my face, and others it was just a case of a really bad weave. After regretting one too many failed attempts to copy a weave I'd spotted in a magazine or on the red carpet, I knew I had to start a fresh search for the perfect weavoligist to work some magic for my wedding day. A pre-wedding hair trial is a must, ladies.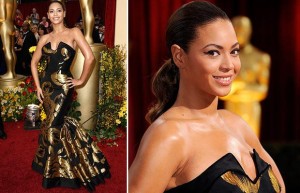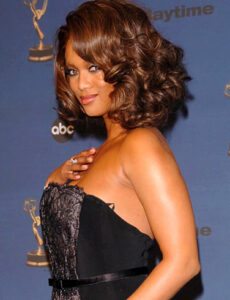 I followed a strict plan to find my dream weave. Here's how: First, narrow down your style ideas and print pictures to have handy. Next, start stalking women with great weaves that you spot in your travels and ask them all about their stylist, how much it costs, and what type of hair they used. Do your research to find the best salons near you and set up appointments for trial runs. (You might want to save up, because this can cost.)  To save a few bucks, get a Quick Weave for your trial and save the sewn one for the wedding and honeymoon. Once the hair is in, don't be afraid to ask the stylist to play around with the different styles you had in mind. Be sure to bring in your veil, headband,  and accessories too, and take lots of pictures from all angles. I went through three before I found the right one for me. I started out wanting bouncy curls like the ones Tyra's sporting above, then tried a sexy ponytail like Ms. B's, only to end up going with the stylist's inspirational vision in the end. What was the winning look? A gorgeous retro wave in front paired with a side swept bundle of cascading curls, like these two classy throwback looks from Kim Kardashian. (See the pics below.)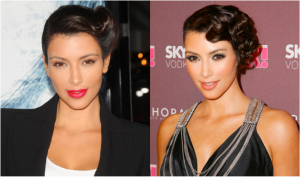 Ladies, please remember that if you don't like what you see during your trial, you won't like it when it comes down the aisle.
P.S. Once your confident with how you'll wear your hair, go for a makeup trial too. You want to be fully prepared.
BE SURE TO TAKE THE POLL ON THE RIGHT SIDE OF YOUR SCREEN AND WEIGH IN ON WHICH STYLE I SHOULD HAVE CHOSEN.
How are you wearing your hair for your big day? Are you in search of the perfect weave? Or maybe you plan to keep it (totally) real at the altar? As always, I want to hear your stories!