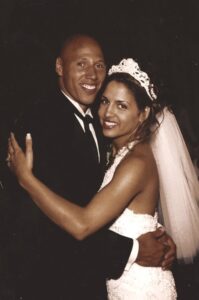 When I woke up and saw this article regarding marriages with(out) staying power from The Washington Post getting so much buzz on Facebook, I knew today's post was timely. In today's Marriage Matters profile, Christy and Freddie — who just celebrated their 13th wedding anniversary! — share how they keep their love, family and careers in-check. [FULL DISCLOSURE: These guys are one of my favorite couples and have the cutest little boys. I'm truly blessed to have so many positive examples of Black marriages in my circle and I don't take it for granted.]
Full names
Christy Quartlebaum, 35 and Fred Quartlebaum Jr.
, 42

Professions
(CQ) Regis
tered Nurse/Pharmaceutical Sales; (FQ) Basketball Coach
Wedding Date
June 21, 1997
Ages of sons
Trey, 9 and Mayson, 8
Christy Says:
On the wedding vs. the marriage:
Freddie and I never discussed "THE RING" prior to the proposal. When he proposed, the ring was such an afterthought. I just changed my setting from a yellow gold setting to a white gold one for our 10-year wedding anniversary.
"The Ring" and "The Wedding" is really overrated and I think more emphasis should be placed on THE MARRIAGE.
Maintaining demanding careers:
In our 13 years of marriage, we have lived in 7 different states. Much of our early years (with small children) were spent traveling.
I knew what I was getting myself into when I married Freddie. The funny thing is that we lived together for a bit prior to getting married, then lived apart our first two years of marriage because of his career. His job [as a college basketball coach] was extremely demanding and I have also maintained my career. We have made it because there was never an alternative. We set out on this journey together and have kept our focus on building a strong foundation for our family.
On in-laws:
W
e are both blessed to have parents that have our best interest as their primary focus. Neither of our parents have been meddling, overbearing or any of the horror stories that I have heard of. Freddie is an only child and his mother is definitely in his corner, so it could have been a crazy situation. I saw his relationship with his mother as an opportunity to give her something she never had, a daughter. I included her in every step of wedding planning; she helped me pick out my dress, she was there for the birth of our first child. He has accepted my family as his (which may have been asking a lot at times). Not having the distraction of "in-law issues" has been important in our marriage so that we can have complete focus on what we need to do for us.
Freddie says:
On married life:
I have been blessed to find a loving, giving and selfless partner in my life. I wanted to be with someone who shared my values and vision of what love truly means.  I wanted to pour my heart into someone else's world and not be afraid of what the future holds.  It's a true leap of faith without fear.  I was willing to take that jump knowing that I had a beautiful soul to leap with me.
On being a husband vs. a boyfriend:
Married life is like dating! You want to keep that fire, that energy and passion as if you were still dating. We kiss and hug everyday; that's what makes married life fun and exciting.  It's still cool to go on dates with your wife; keep it fresh and fun. I still ask Christy, "You wanna go with me?" [laughs]
On marrying his best friend:
We have remained best friends because we put each other first. We share everything and know how/when to communicate our feelings with one another. We take the time out of our day to check-in and make sure that we are having a "good day".
We truly care about the welfare of each other and have so much fun in each others company.
Did you learn anything from Christy or Freddie…or both? Their insight may seem simple but clearly it isn't based on this country's divorce rates, huh? Sound off in the comments.