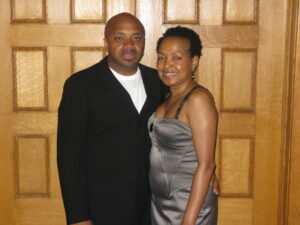 Triple B experienced technical difficulties yesterday so please enjoy this edition of Tie the Knot Tuesday on Wednesday.
Bride: Lynda Johnson, 54
Groom: Alonzo Wright, 47
Occupations: Lynda, Web entrepreneur/college professor; Alonzo, musician
Homebase: New York City
Wedding Date: May 29, 2010
Wedding Location: at the couple's home in Harlem, New York

Drinks on Me: "Can I buy you a drink?" is a pretty standard pickup line but typically doesn't lead to anything substantial. Good thing Lynda Johnson and Alonzo Wright aren't typical. The couple met at a New York City jazz club on an evening Lynda's girlfriends begged her to hang out when Alonzo offered to buy her a beverage. Lynda informed him that she already had a drink when Alonzo quickly responded, "Well then you'll have another one." Sarcasm aside, Lynda was smitten. "There was no pretense, our conversation just flowed," she recalls. Adding, "He walked me to my car when we left the club and called me to ensure I made it home safely."

I've Got a Love Jones: The next day, Alonzo telephoned Lynda and invited her to watch the sunset. The two headed to Harlem's picturesque Riverside Park to do just that and Alonzo brought along his saxophone. As he played for an impressed Lynda, people gathered around to listen. Before long the couple began living together and as Alonzo explains, "Everything just kind of happened." This first date was the beginning of a 13 year relationship. Neither Lynda or Alonzo were pressed to tie the knot but Alonzo eventually caught the marriage bug, Lynda jumped on board and the two decided to make their union official less than two months later.

[cincopa 10651919]
Lean on Me: Although they dated for 13 years before jumping the broom, Alonzo admits to knowing early on that Lynda was the woman for him when she supported Alonzo after a sudden layoff. "I called her and said, 'I just got fired' and she immediately replied, 'That's wonderful! Now you can concentrate on your music," remembers Alonzo who went on to record three albums after that job loss. Alonzo knew then Lynda was special. "When you find the person willing to fight those good battles with you and if you can't imagine tomorrow without that person, then that's who you need to be with", shares Alonzo. Lynda adds, "I was a widower and it was hard to date after my first husband died. Then I realized, I'm not looking for a replacement, I'm looking for an addition. I felt complete [with Alonzo], I didn't have to go through life by myself."

Home is Where the Heart Is: The creative couple decided to get hitched in their historic Hamilton Heights (Harlem) townhouse. "It is our mini-oasis," says Lynda who readily admits that Alonzo planned most of the wedding himself. "He told me the only thing I had to do was get a dress," she says with a laugh. The duo used the second floor landing of their limestone for the relaxed yet chic affair. They hosted about 20 guests in total. "People get so caught up in tradition and what others are going to say or think," Alonzo points out. "We wanted the day to feel down to earth and organic…like us," Lynda says. "It was magical."

Lynda's Budget Bridal Tips For Future Brides:
Fashion Sense: Lynda's sophisticated and non-traditional "wedding" dress was purchased at a no-frills boutique in NYC's Soho for about $100 and Alonzo wore an Armani suit and sandals he purchased years ago during one of the couple's many trips to Italy. Don't be afraid to think outside-the-bridal-box when choosing your wedding day attire and save money in the process.
The Art in You: Lynda and Alonzo were able to rely on their home's unique characteristics and wonderful artwork to provide most of the "decoration" needed for the day. Regardless of where you decide to tie the knot, take inventory of what you and your sweetie already own before you go on a bridal buying bonanza.

Stick to Who You Know: "We used the same florist we patronize weekly to get flowers for the house to provide my bouquet and an arrangement for the main foyer where guests entered," says Lynda. The couple also turned to a trusted resource for their catering. "If you go to vendors who you support regularly, they might cut you a deal," she advises.

Take a look at past Tie the Knot Tuesday features here.
***Did you or someone you know recently tie the knot? Complete this brief form and the wedding just might be featured in an upcoming Black Bridal Bliss feature!***