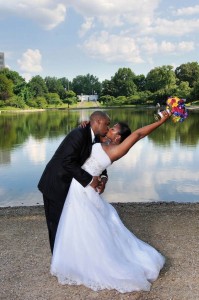 I was so excited to discover an essay from a Tie the Knot Tuesday alum on BlackandMarriedwithKids.com last week! Gwen and Endion recently celebrated their first wedding anniversary and Gwen penned an honest and heartwarming piece about those 365 days. Check it out:
On July 11, my hubby and I celebrated our first year as husband and wife. A joyous celebration it was, complete with the most beautiful gift I have ever received, relishing the goodness that was the top layer of our wedding cake, watching our wedding video and reliving wedding day memories that will last forever.
I love my husband tremendously. Which is why I love Beyonce's new "Best Thing I Never Had" song and video. Every now and then I think about the men I previously dated, some of whom I believed with every fiber of my being I'd end up spending my life with. Then I consider who that person has grown to be or what they're doing with their lives, and I find myself grateful that the good Lord determined those individual relationships to be mere chapters in my life and not my entire book.
I have determined that God selected this man for me. I can't front: everything hasn't been peaches and cream one hundred percent of the time. There have been times that I felt like ripping my hair out and there have been times that I couldn't have imagined being more than two feet away from him. He is my biggest fan and my biggest constructive critic. He is my rock and he keeps be grounded. And even on the occasions when I'm up to my head in frustrations with him, I couldn't bear the thought of him not being in my life.
To read the rest of Gwen's touching essay, head over to BAMWK!