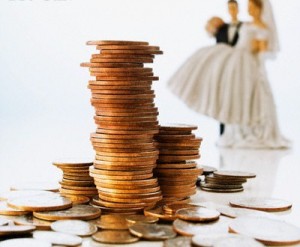 Howdy! My apologies for being a little MIA but life has me pulled in upteen directions as of late. I'm blessed to be so busy but I cannot continue as I was and have learned to ask for help (thanks Mom!) as I work on improving my time-management (thanks Mr. TK!).
Now you really don't give a bleep about all that, you're trying to plan a wedding! And in the midst of one of this country's biggest financial meltdowns no less. I mean ish was already tight but trust there will be trickle-down from this recent stock market fiasco. Although the bridal industry is recession-proof, nearlyweds will be even more interested in ways to do more with less. So, check out my BlackEnterprise.com piece chock-full of tips to get you the most bang for your bridal buck.

NEVER PAY RETAIL FOR A GOWN
Attend a sale like Filene's Running of the Brides, where designer dresses are sold for as low as $249. Check FilenesBasement.com for dates. Also, avoid changing dresses between the ceremony and reception. There are stylish and affordable options from retailers such as David's Bridal that have removable trains and bustles. If you're in NYC or plan to be, check out the Garment District for super inexpensive bridal accessories (veils for as low as $40!) and visit the Bridal Building, 1385 Broadway, NYC 10018 212.764.5769 (primarily for trade but open to the public on Saturdays) for other bargain bridal buys.
GET MARRIED WHEN EVERYONE ELSE ISN'T
Marrying off-season is a great way to save money since 70% of weddings take place between May and October. (Note: "off" seasons might be different in Boston than in Florida.) Another huge cost-cutter is getting hitched on any day other than Saturday. Friday and Sunday nuptials have become quite common and mid-week weddings are catching up in popularity as well.
Read the full 11 tips here. Be sure to leave a comment here or there (or both) with your feedback.
And last but certainly not least, kudos to all of you nearlyweds and newlyweds that continue to amaze me with your fab and frugal ideas! Tie the Knot Tuesday has truly proven that there is no need to go into debt for your wedding day. I was already blown away by the resilience of Black women but since I launched this site it has definitely multiplied. I am in awe of the unique wedding info you guys share on Facebook and Twitter (the wonders of etsy.com never cease!) During this time we should all remember: Limited resources often bring about unlimited creativity.