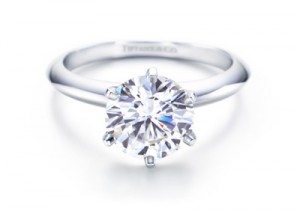 We all understand (hopefully!) by now that marriage is not about that bling but for some couples choosing the right engagement ring is confusing, stressful and clutch your grandmama's pearls expensive. Wouldn't it be nice to try a ring out to ensure you truly love it before your significant other dishes out their hard-earned cash? Well, now there is!
Beverly Hills jeweler to the stars Jean Dousset now offers cubic-zirconia engagement-ring replicas. The customizable CZ versions start at $289 and arrive to your door in just three days. You can rock with it for as long as you please before saying "I Do" to the real deal. The testimonials on the site are glowing; seems like Dousset might be on to something with this. Get more info here and if you decide to try this yourself please drop me a line and let me know how it works out.
A huge CONGRATS to LaWanda down in Louisiana for winning the first-ever BlackBridalBliss.com giveaway! Several folks did email the correct info but LaWanda was numero uno with the answer: Cape Town, South Africa in response to where newlyweds Cleo and Lyncoln Dujon spent their honeymoon. Your copy of "I Still Do" is in the mail, LaWanda!