(HOT OFF THE PRESSES! Well…sorta)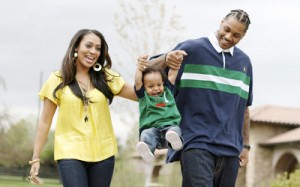 Haven't you been losing sleep wondering when the next reality television show was going to debut? Seriously, prime-time TV needs another reality show like Seattle needs rain. But I'm still admittedly a lil' pumped about VH1's newest addition to their fall lineup. The cable network has signed Denver Nuggets star Carmelo Anthony and his fiancé, television personality La La Vasquez to a new series about their upcoming nuptials. They're promising the show will include behind-the-scenes footage of all the planning and festivities leading up to and including their big day. The five-part series will premiere on Sunday, September 19th and consist of four half-hour episodes plus a 60-minute wedding finale.
The series begins with La La and Carmelo meeting with celeb wedding planner Mindy Weiss. We'll ride along as La La shops for the perfect gown, chooses a venue, picks out the ultimate wedding cake and menu, plans their honeymoon, contemplates the guest list — all while maintaining her and Carmelo's hectic schedules and raising their adorable son, Kiyan (pictured above). Bonus: We'll also get a glimpse of La La's bachelorette party in Vegas!
LaLa graces the cover of the new celeb mag, Juicy (shameless plug: I penned several articles in the issue so check it out) and from what little I know about her, I'm looking forward to this show because she seems pretty down-to-earth. (I think this partly stems from an essay she wrote earlier this year about being a Black Puerto Rican. Many people still seem to think they're mutually exclusive but I digress.) Below are her and Carmelo's Save-the-Date card that was sent to their guests on Valentine's Day of this year.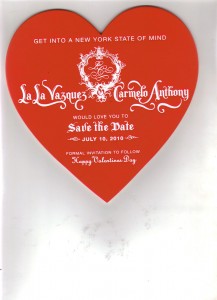 Will you be tuning in to this VH1 show come September? Are you nervous about La La and Carmelo actually making it to the altar? (Ahem, remember Eva Marcille and Lance Gross?) Sound off, y'all!