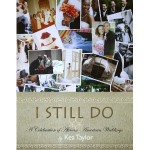 Howdy! Today's post contains a gift for you. Woo Hoo! Mama is super-duper proud about it, too. Remember this piece a couple weeks back? Well, the cool folks behind I Still Do ($29.99, Imagine Photography) have offered to give a copy of this wonderful coffee table tome away to a BlackBridalBliss.com reader of my choice. How cool is that, huh? Not only is this book one that will be a welcoming addition to your current library but it would make a lovely anniversary gift for some deserving couple. Keep reading to find out how you can score this book without spending a dime.
All you have to do is be the first reader to answer the question below correctly:
Where did newlyweds Cleo and Lyncoln Dujon travel to for their honeymoon? Be sure to include the city (and any other noted location) and the country. The most specific response trumps all. *HINT* The Dujons were the first Tie the Knot Tuesday couple to be featured on Triple B.
Please email your answers to: [email protected]. The deadline is midnight on Friday, June 25th.
All the best, folks! (I don't believe in luck.)
***Does planning your wedding feel as though you've taken on a second full-time gig? Then take out your frustrations here! This fun survey is from the folks at TheKnot.com, WeddingChannel.com and ForbesWoman and I'm helping to spread the word. Their findings will surely make the world a better place for future brides-to-be.