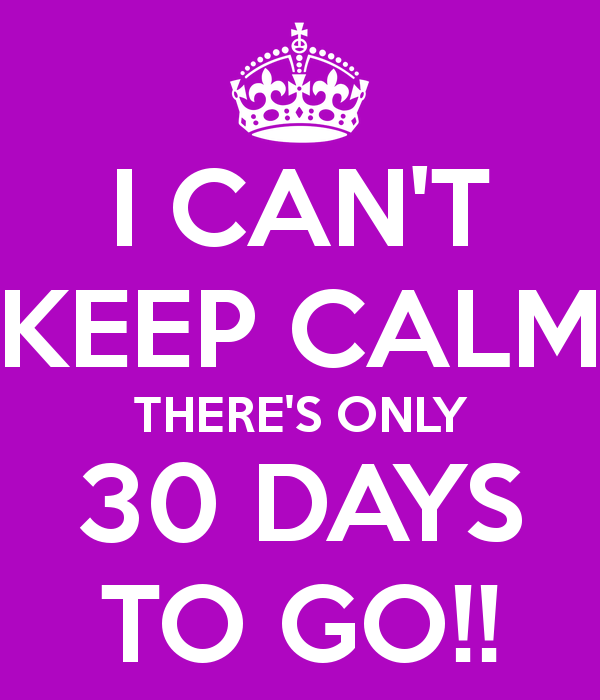 One month to go! I literally cannot. Seriously, where did the time go? As I'm writing this post, I realize that when I started blogging for The Road To Mrs. series, fall was upon us and my wedding, which was nine months away at the time, seemed like it would never arrive. Boy, did I underestimate this thing called time.
Last weekend, I had dinner with one of my best girls who was in town. I watched her order a few drinks and then a super carb-laden pasta dish. I'm certain the "Chile, do we need to talk?" look was written all over my face, because almost instantly, she blurted out "Girl, your wedding is 30 days away. This is my last weekend to eat and drink, so I'm going in!" Complete, absolute hilarity, but true nonetheless. 30 more days!
Since I am checklist fiend, the next day I made my "30 days to go" list. My wonderful wedding planner/Soror/friend Christina keeps me on track with weekly updates/follow-ups, so making my list wasn't even all that necessary, but to satisfy my OCD, I needed to create a list, just to triple check that I had taken care of all of the outstanding items that needed to be completed.
Wedding planning can be a beast, and having a destination wedding definitely adds another level of crazy to a somewhat insane, process, but I found that enlisting help (i.e., a wedding planner) and allowing yourself enough time to plan are major keys. Folks thought I was nuts for having an 18-month engagement, but giving ourselves that time not only allowed us to ensure that we were planning the wedding that we wanted, but equally as important, the wedding that we could afford, without it being a burden to our livelihood.
Here are my top five "Girl you are 30 days away, make sure you got your ish together" most important checklist items:
Get papers on that man. Papers, as in your marriage license. Make sure you are aware of all the timeframes that are associated with ensuring you will legally be a 'MRS" on your wedding day.
Gifts anyone? Now that you have a final guest count, you can order wedding favors and welcome bags, if necessary.  You should also order your bridal party and other gifts (e.g., gifts for parents, kids) if you haven't done so.
Make a seat at the table. No, not a nod to Solange's amazing song, but more like your seating chart if you plan to have assigned seating.  An absolute chore, but one that has to get done…especially if you are trying to keep certain people (i.e. the proverbial drunk uncle that you don't want to invite but kinda are force to) at certain tables so that they aren't around certain other people. Understand? 😊
Enlist support from your hired help/and or those who have volunteered to help. Viola Davis type hired help isn't what I'm referring to. Now's the time to reach out to your wedding planner, coordinator, bridesmaids, friends, anyone who is either being paid to help or who has offered to help ed pills. Your vendors need to be firmed up, delivery logistics arranged, etc.
It's almost time. You have been planning and prepping for this moment and it will be here soon. Take time to take it all in. Breathe. Pray. Meditate. Know that the wedding will be perfect, even if it's not, it will still be your wedding and the day you marry your best friend. Actually, that is perfect.
What are your thoughts about this list? What is on your 30-day until wedding checklist?
Check out last week's Road to Mrs. post here.