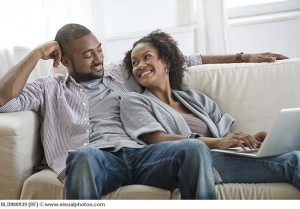 When I got Bridgette's email I just had to read it at the dinner table.  She wanted Sean and I to give our thoughts on the new wedding planning tool being offered by Google.  Google For Weddings is a new set of free wedding planning tools to help you get organized for your big day.  Bridgette doesn't know this, but I absolutely love Google.  I mean I really love it… I Google just about everything! Sean and I were both up for it, especially when we heard our favorite word, "free."  So we took time to check out one of the coolest wedding planning tools available. Here's the rundown:

1. Create A Web site With Google Sites. You can share your wedding story and event details with an easy to create website. Pick the style that fits your theme or venue, then edit your website with ease.
Pros: We both like the layout of the site and the themes are lovely.  Our favorite theme is Caribbean of course!  :-)  Our website took minutes to create and was easy to edit.  And being able to use the Google map for our location was a definite plus!
Cons: It would have been nice to see more diversity in their sample photos and themes. We have found the lack of diversity during our wedding planning increasingly frustrating.
If Google's argument is that they can't cater to everyone, then maybe they could provide a blank wedding template called, "Add Your Culture/Traditions," where couples could use their own photos to incorporate their family heritage and/or traditions.
2. Photo Editing & Personalized Announcements From Picnik. Use Picnik's photo editing tools to create announcements, save the date, thank you cards & more.
Pros: We LOVE this!  Picnik's photo editing tools made creating our test collage so easy. This is a great option for budget or environmentally conscious couples.
Cons: None yet.  However, we'll know for sure in a few months when we send out our save the date cards.
3. Plan Using Google Docs. Save time by collaborating with your bridal party on guest lists, schedules, addresses & more. Access & edit your planning documents from the bridal shop, bakery or pretty much anywhere.
Pros: We liked that we were able to easily download and save the documents.
Cons: We didn't like the look of the documents.
4. Share Photos With Picasa Web Albums. Create an online photo album to share your engagement & wedding pictures, or gather photos of floral arrangements, dresses & other inspirations.
Pros: Looks great, but we haven't tried it yet.  If you have, we'd love to hear your thoughts.
Cons: Again, none yet.  If you experienced any problems with this tool, let us know.
Overall Sean and I feel Google For Weddings is a great planning tool worth trying, but enough about us…
What do you think? Have you tried these tools?  Any likes, dislikes?  Let's discuss.
[The above pic is used for illustrative purposes only, courtesy of visual photos.com. To witness the real Nadine and Sean in action, check out their hilarious video!]