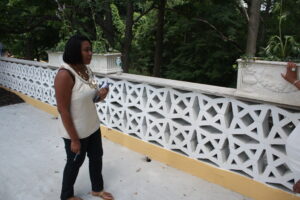 Let me just say first, don't feel sorry for me. As a former weddings editor, I knew budget tricks and tips. I used to make a living advising brides on how to stick to their budgets and plan a glamorous wedding for less. But even the so called experts make mistakes. I knew better. Yet when it came to my wedding I found it hard to follow my own rules. I booked one fabulous vendor after another and racked up on must-have details, I watched my wedding budget burst into flames. It's easy to say "cut this or that," but the truth is, when it's your wedding on the chopping block you're not so willing to bend. I haven't even made it to the altar and I'm already scared to look at how much we're spending. The good news is, I know where I went wrong, and I want to share my mistakes with you. Here's to hoping that you won't make them too!
My Mistake: Splurging on big stuff before I budgeted for little things. I went wild with entertainment and lighting packages early on, only to realize later that I would have loved to spend less on music, and more on a couture cake stand and topper. I could have cut out one singer and gotten the most out of budgeting for both.
How to Avoid Making It: Write a list of all the must-haves you envision and then highlight the ones you're willing to go broke over. The best of the rest should be what you spend the most time trying to find a bargain on.
My Mistake: Going crazy on stuff for "us", instead of details for the reception or ceremony. I started splurging on cute little knick knacks before I ever thought about how I would decorate my altar or aisle. This is a clear example of poor prioritizing on my part.
How to Avoid Making It: When you're creating your initial budget think about how to get the most bang for your buck. Set a target amount for each category, then tell yourself that whatever money is left over after you've finalized all the big details will be yours to use for treats like bridal robes or custom gown tags.
My Mistake: Falling for a specific flower. Once I saw the black and white anemone, it was love at first sight. I planned my wedding colors around making this gorgeous bloom the headliner of the evening, only to find out that it's out of season in the fall and extremely pricey to get in those colors in New Jersey. By then I had made up my mind so I took the hit. (Trust me when I tell you out-of-season florals are NOT cheap.)
How to Avoid Making It: Pick your wedding colors or theme before you even look at flowers. Florals will be a huge part of your overall wedding budget. (Think: centerpieces, bouquets, boutonnieres, and altar flowers.) If you're stuck on a certain bloom you could be immediately inflating your budget by thousands of dollars. And when you're ready to pick flowers, be flexible. For example, peonies are pretty, but pricey. Whereas dahlias give off a very similar look and feel and aren't nearly as costly.
My Mistake: Not sticking to my guest list guns. We booked our venue hoping to have an intimate wedding of 90 or so folks. At present time we've mailed over 150 invitations. The venue can hold our ever-growing group, but we're still paying a pretty penny per person. Add tax and gratuity and our original reception budget has already doubled. (Yikes!)
How to Avoid Making It: You and your groom may have an intimate wedding in mind, but before you book anything put out feelers with loved ones. We didn't think anyone would be offended if we told them we were keeping things small, but once word got out about our wedding it seemed like our entire family tree wanted an invite. Get a real gage of what your guest list will be before you sign any venue contracts.
Are you keeping up with your wedding budget? Or have you blown right through yours like me? I want to hear all about your budget woes and triumphs. (And feel free to share a great deal you found too!)